Radio+ is a free windows 8 app. This app has been designed especially for radio lovers. They will find this app really interesting. This is a lightweight windows 8 app to listen to online radio stations. This app consists various inbuilt radio stations. Some of these radio stations are really famous for their services. It is an advertisement free app letting you enjoy your day with peace. The best thing in this app is that even switching over to other windows app, Radio+ app continues to play. You can find radio stations here on this app based on the genre. You can personalize any radio station easily here as well as you can add any radio stations which you like the most to your favorite lists.
The interface of Radio+ app looks very normal and simple. However, you will not find any uncluttered things here on its interface. You can also visit its web browser form this app. A screenshot of this app is shown below: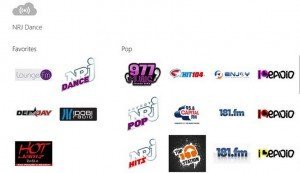 A link has been provided at the last of this article for you to download Radio+ beautiful app to your windows machine.
How to use Radio+ App to listen to Internet Radio
Running this app after its proper installation on to your windows machine will open up a screen like the above shown picture. Here, on this screen, you can see a large number of radio stations. You can move your mouse to the right to see other radio stations present there on this app. In the left panel of the screen, you can see a category named favorite on the top. You can add any radio stations which you love to listen to here. All you have to do is to simply start playing the requisite station by clicking on it and the right-click. This brings fly outs in the screen, simply click on Add button in bottom fly out. You can switch over any two favorite stations just by simply clicking on the next and previous button here.
Radio+ app consists of various interesting things like you can change the theme of this app. You can decide whether you want to have a light theme or a dark one for you on this app. This is a completely handy app. It contains a sum total of 68 radio stations with unlimited music, tracks, artists. You might be thinking that this is a lesser number of radio stations, however, once you use this app you will find that this app consists of all those radio stations which you love to listen too not like the others which consist of extra play stations which you never even look at even once. Some of its play stations are NRJ FM. Route Musik, Kick Radio, Seven Radio, Chronix Radio, House Time FM, I Love Radio, Hit Music Radio, 977 Music, and many others. all of these stations are grouped and categorized on the basis of genre. Some of the popular genres are Rap, Retro, Rock, Alternative, Pop, Relax, etc. 
As, this is an internet based radio app internet speed matters here very much while playing music on this app. If the internet speed is fine, you will really love this app. In case, you face internet connection problems, i won't suggest this app. Right-clicking on this app will open a flyout as usual like the other windows 8 apps. It consists of three things which are: My stations, Support and Settings. Here, on my stations, you can add any other internet radio website which is free to this app. All you have to do is to right click on the screen, it opens a fly out, click on add station button on the list which is present in front the screen. In a similar, you can delete any station if you wish to.
In the settings mode, you can change different settings of this app according to your own choice i.e the way you want to see this app, its playing options and many other things. You can also adjust the name of stations showing on the main screen using this app or set a custom photo for the background of this app. You will really love this app.
Key features of Radio+ Windows 8 App
Free of cost application
A fantastic radio app to try on
Listen to quality music for free
Excellent designed play station
Unlimited music of various genres from lounge to hard-rock
Add radio stations in the group of Favorites
Media-buttons support, it is possible to switch stations without entering application
My Note
Radio+, is an interesting Windows 8 radio app that lets you listen to different radio stations smoothly without any hindrances either in audio or quality. There are no bugs and crashes in this very app except the way which different radio stations are played here on this app. Overall, this is a good app to listen to good quality music for completely free. Have this app from Music and Video Category of Windows Store.
Link: Radio+