Trend Micro is dedicated to protect the privacy of your device and websites with the support of software and online service. Now Trend Micro has introduced a new security app for Windows 8 that is called Trend Micro is Go Everywhere. It is a user-friendly app which facilitates to protect your Windows 8 laptop or desktop from theft or loss. This security app provides a simple method and interface to locate and recover the registered Windows 8 device by viewing its location on Google Maps. How does Trend Micro is Go Everywhere app works? Suppose you have lost your Windows 8 laptop/tablet somewhere in your home or office? The app does not confirm the current location of lost Windows 8 device on the Google map but plays an alarm loudly by remote control for a minute in your Windows 8 device. Advantages of Trend Micro Go Everywhere app
The app facilitates you to locate your lost Windows 8 device immediately without problems.
Micro is Go Everywhere app is free to download from Windows 8 store.
The app is capable of finding 5 Windows 8 laptops/tablets using a single account.
It supports multi-language to use for worldwide users.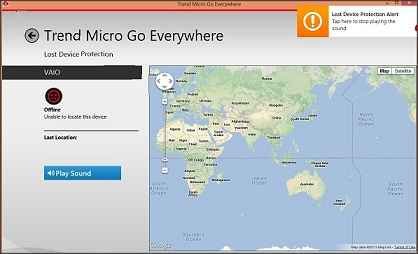 Disadvantage of Trend Micro Go Everywhere app
The app works only on Windows 8 operating system (Pro and Enterprises).
It doesn't locate an accurate location on the Google map.
Sometimes the app is unable to locate the device due to enter the invalid Windows license key or use the pirate version.
Download Trend Micro Go Everywhere app from the Windows 8 Store.