You often search for photo editing apps. An app PhotoWeaver is present with which you can download, edit, and upload photos from  Social Media Sites. This app offers advanced editing tools. It is a completely free app of windows 8. This app is designed in a very simple but attractive manner. Its interface is really cool and is user friendly. The link to this app is given below or you can directly download it from visiting the Windows 8 App center.

How to use and have fun with this app
A window like the below shown screenshot will appear to your screen once you download and install this app using the download link given below in your windows machine.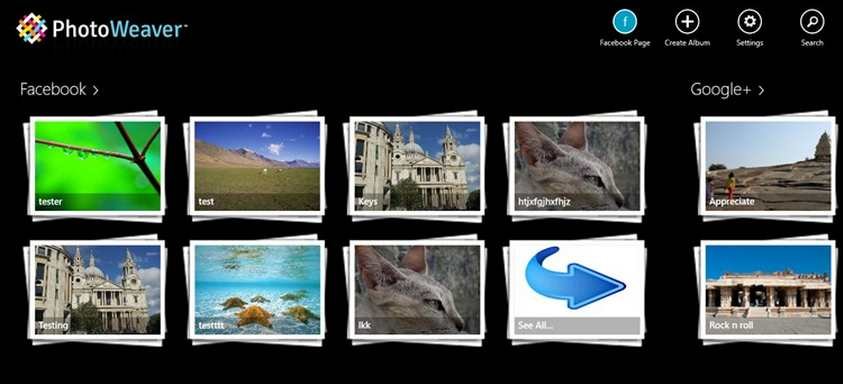 In the screenshot above, you can see that there are various categories from where you can simply look for your pictures or other photos like Facebook, Google +, Sky Drive, etc. There is also an option for the local drive pictures. Here at its home interface, you can choose where to go. There is Special Category also where you can add your favorite pictures from social sites to your local drives.
How to edit any figure in this app
Editing in this app is kept very simple. All is done within few minutes. A description of how to do is given below:
Click on any photo you want to edit. 

When the selected photo is opened, you will see several options there on your screen to modify them like the screenshot shown below.
Make the changes that you want to do to make your picture beautiful. Once you are done with this you can simply click on Upload option to upload it to your social sites or you could simply save it to your local drives too.
You can upload any picture at any time and wherever you want.
Note that once you are done with making changes and upload it to your social sites, you can look for the comments or the no of likes you got from your friends by simply opening any picture from here. This app also provides you a feature of sliding using which you can slide pictures in full screen to see them.
There is some special effects there in this app powered by Aviary. There is a lot no of edition changes present there to make your picture look wonderful and awesome. However to get acquainted with different options you have to try this app for yourselves. Once you are done, click on Done and upload it on your social network using the upload option as explained above.
Key Features Of This App:
This app helps you in sharing your photos and pictures with your friends, family members etc.
It allows you to view the comments made on your pictures by your friends.
You may also download pictures from the social sites using this app.
It also lets you use the  Devices charm to view photos on a TV with Xbox or other Windows certified Play To Device.
You can also use its settings like effects, enhancements, rotate, crops, stickers etc. along with some other advanced settings too.
You can upload as many photos as you desire from one social network to another and that too in a single click.
Conclusion
Photofeature is one of the best photo editing apps. It is beautifully made and is a must try app. This app allows you to keep all your photos secured and safe in one place. It also lets you to see the comments on different pictures just at once without switching over different social sites.  Again, as it provides the feature of seeing pictures either as thumbnail or large picture it saves your time in switching over one site to another. However, this app is a nice and wonderful app; the ads which it supports distract users from their actual work. This is its only one disadvantage according to my own opinion.  Yet as this app comes with wonderful features which made it worth trying. You can download this app in your windows machine from the below link.
Download link: Photoweaver app