Microsoft has introduced new handy updates "Office web apps service" for SkyDrive or Outlook.com. Using this free update, user can simply view PDF documents. Besides, the new updates let you to convert PDF file into word documents on SkyDrive so that you can change something in your PDF document online.
After finding a recent update in the Office Web Apps blog, attached PDF files of e-mail account or files stored in SkyDrive are speedily view-able  inside the browser and no need to install any PDF viewing software. This allows you to change the required text in PDF file without the need any PDF editing software. If you access Outlook.com and SkyDrive with your Microsoft account, this new feature is fairly useful during a busy day in the office.
How to Read and Edit PDF file using the Microsoft Web Apps service?
The feature has been revealed to all users which have a Microsoft account. To use this new feature with the both SkyDrive and outlook.com services,
At first, sign in to your SkyDrive account and outlook.com account at the same time in the different browser tab.
In SkyDrive account, Right click on any PDF file and select to "open in the Word Web App" option. The loading process depends on attached PDF file sizes.
In outlook.com account, click on the attached or receiving PDF file and opens it with the Office Web Apps service.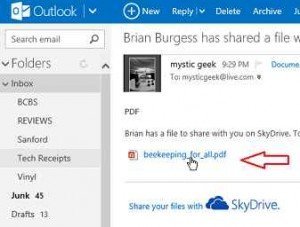 Once your PDF file is loaded successfully in the Office Web Apps service, you can read all pages one by one by mouse scrolling.
At the top side of Office Web Apps service, you will get five handy menus. The Edit in Word menu helps you to edit the PDF file by converting it to Word online and saving it to your computer. Keep in mind that the original PDF will not be changed.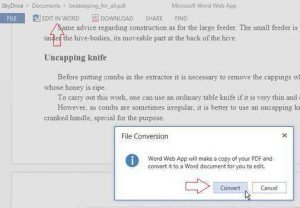 As well, when you launch a PDF file in SkyDrive, you will get the capability to search through it and locate accurately like what you are searching for. It is a very useful and handy option in order to search a particular point in a large PDF file.