Accessibility Insights for Web for Windows 10 is a browser extension which is now ready to gets installed in your device. It makes it easier for developers to locate and resolve the approachability issues in web apps and sites. In addition, this extension tool is a user-friendly application which supports two primary scenarios. Here, the Automated checks tool is used to checks for compliance with approximately 50 accessibility requirements by itself. Whereon the Tab stops tool renders clear guidance and a visual helper that makes it easy to identify critical accessibility issues related to keyboard access. For instance – missing tab stops, and inaccurate tab order. The manual tests provide step-by-step directions, examples, and how-to-fix guidance as well.
You are able to download Accessibility Insights for Web for Windows 10 from the Store even free of cost. This Windows extension tool occupies only 19.04 MB space on your memory that is actually quite pretty. Accessibility Insights for Web is compatible with Microsoft Edge Insider version 75 or later.
Accessibility Insights for Web Windows 10
Here is How to Download Accessibility Insights for Web for Windows 10 –
Step-1: Navigate to the official web page of this extension using any web browser on your device.
Step-2: When the page opens up, click on the Get button available on the running screen. This will ask you to Open Microsoft Store. Click on the same button to access the Tool page.
Note- You're also able to launch the Microsoft Store and find it by searching the tool name.
Step-3: On the running page, again click on the Get button to start the downloading procedure.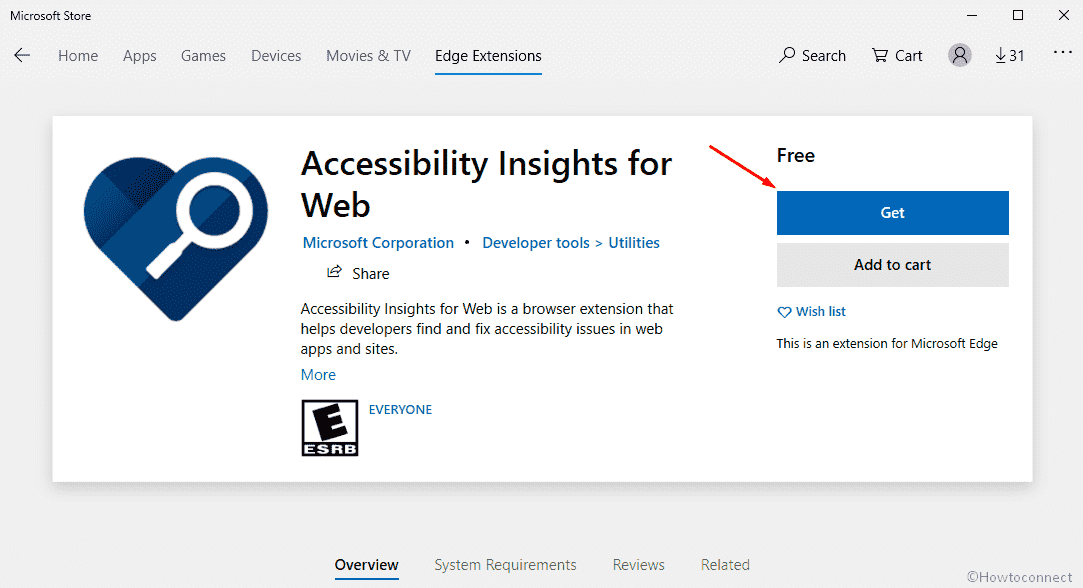 Some basic requirements the developer tool
To work Accessibility Insights for Web on a device, your system needs to meet the following system requirements for the best experience –
This extension tool is suitable for Windows 10 version 14393.0 or higher in order to launch and use this product.
Your system should have the architecture specification of x86, x64, ARM, ARM64 at least.
Your device must support the English (United States) language.
This tool is at free of cost and there is no age restriction.
Sign in through the Microsoft account alias to approach the app from the Microsoft Store.
That's it!!!