Another cumulative patch KB4495667 is unfolded by Microsoft on the 03 May 2019 for Windows 10 1809 version taking the OS to Build "17763.475". This new release contains remarkable fixes associated with Japanese Era, Custom URI, Gdi32full.dll, ShellExperienceHost.exe, PostScript printer and so on. Furthermore, the build has several quality improvements including a few methods aiming at enhancing Stability to make the OS more stable retaining other features almost the same.
Users running Windows 10 v1809 are able to download KB4495667 as an MSU file format straightway from the Microsoft update catalog site. Additionally, you'll receive this patch from the Windows update by itself. In addition to this, upgrade your device to the latest version for having a better experience of the user interface. To check out the patches of the entire versions, navigate to Windows 10 Cumulative Updates List.
KB4495667 –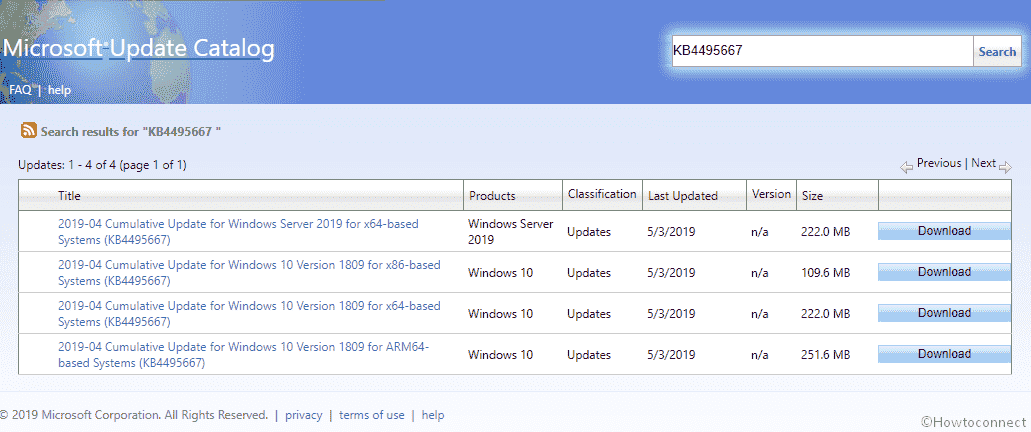 KB4495667 Windows 10 1809 improvements and fixes details
This is a bug fixing and stability enhancement patch provides no new feature to the operating system but holds a collection of quality improvements like –
Windows 10 team works on the inbuilt Administrator account to execute Microsoft Office setup after downloading the installer in Microsoft Edge.
On installing this patch, internet Explorer Automation may not be failed in a few specific circumstances.
Microsoft specialist work on an issue that may prevent Custom URI Schemes. This was for Application Protocol handlers, which cause inaugurate to a related application for a local intranet and trusted sites on Internet Explorer.
They try to fix the issue that may hinder to launch some specific apps. This problem arises when you set folder redirection for the Roaming AppData folder to a network path.
There is an issue of hampering response with Gdi32full.dll. However, it's no more.
Now, the user Interface may not stop responding. This issue used to befall when you scroll in Windows that have many child windows.
Desktop touch screen won't be sluggish on restarting it.
Touch keyboard is made qualified to support the new Japanese Era characters.
With KB4495667 cumulative update, ShellExperienceHost.exe will not hinder working when the start date for the Japanese Era is not on the first day of the month.
Another issue related to CALDATETIME structure is tried to resolve. It makes an interruption from handling more than four Japanese Eras.
The NLS registry is already updated. It is done to support the new Japanese Era.
DateTimePicker issue is being worked on in this patch. This issue shows the inaccurate date in the Japanese date format.
Patch KB4495667 works on the "Date and Time" Settings while starting the new Japanese Era. It controls to cache old Eras and interrupt the restriction from refreshing.
The fonts are updated in this patch. It has been done to support the new Japanese Era.
Input method editor is being tried to resolve from restricting the support of new Japanese Era character.
Another issue related to Clock and Calendar flyout control has been settled in this cumulative update KB4495667. It unveils the days which are badly mapped in the month of the new Japanese Era.
Alternative fonts for the new Japanese Era fonts are appended.
Text-To-Speech functionality is made enabled in this patch. It is done to support new Japanese Era characters.
Windows 10 team allows existing devices that are controlled by Configuration Manager to be recruited in Microsoft Intune with help of Co-management without any user communication. However, it doesn't need an active user being logged in and also no Multi-Factor Authentication will prompt. Besides, KB4495667 update also facilitates you the Co-managed mobile device management enrollment. It is to use the device credential is obtained when the device is empowered to join the Hybrid Azure Active Directory.
On installing the patch having Build 17763.475, it's allowed to co-manage the nomination of the mobile device management. This is used to manage the device password when it is empowered to join Hybrid Azure Active Directory.
Microsoft technician enhances the access to detailed troubleshooting and diagnostic logs from managed devices. For instance – business PCs while using a PC cloud management service. PC cloud management services comprise Microsoft Intune or other Mobile Device Management providers for Windows.
On disabling the account on your device, a continuous message will flash on the screen asking for logging there again using a smart card. The company addresses this issue.
Tech Giant tries to fix the issue which interrupts while accessing to enterprise resources using Kerberos with Windows Hello for Business credentials. Moreover, it causes users to receive a number of prompts to provide their credentials.
PostScript printer will use the proper font.
Lightweight Directory Access Protocol client applications started to react smoothly. This issue used to occur when a number of queries are requested related to the application via a number of connections. Further, this issue also provokes due to a race situation in wldap32.dll. At this incident, you should install this cumulative update KB4495667 on the LDAP client that calls wldap32.dll.
On upgrading this patch, a roaming profile user will not mislay customized Start menu settings. Along with, administrators must empower the UseProfilePathMinorExtensionVersion registry setting described in KB4493782 for roaming user profiles. Besides, this key is further used to create a new roaming user profiles for the latest upgraded Operating System. It also limits the loss of the custom Start menu. The RUP must be stored locally, and you must reboot your machine to facilitate the feature.
A connection request will not break to the Remote Desktop Session Host servers in the deployment. Due to a deadlock in the Connection Broker, this issue mainly arises.
Tech Giant addresses on restricting Cluster Aware Update from relaunching nodes when a cluster's credentials are reset. On these circumstances, one must restart the nodes after installing an update. The error is –
Failed to restart "NODENAME": (ClusterUpdateException) Failed to restart "NODENAME: (Win32Exception) The user name or password is incorrect
Microsoft specialist works on a gradual memory leak in LSASS.exe on systems that have cached logon approved. Several logon requests having an effect on each other are processed by this issue, such as – web servers.
The company focuses on Lightweight Directory Access Protocol query to return unreliable results. Commonly, this issue can be encountered if a filter clause covers an attribute having a syntax of Large Integer type, where filter uses – LDAP_MATCHING_RULE_BIT_AND. For instance – a simple filter may return no matches such as "msExchRoleAssignmentFlags:1.2.840.113556.1.4.803:=51539607552"
Print Workflow Applications will not be hampered from launching for Point and Print.
With the new patch KB4495667, Universal Windows Platform application will not be hindered from getting keyboard input when its UI thread becomes too busy. In general, this type of error flash when the UWP app having an embedded WebView control.
Known issues in this update
Symptom
Workaround
On installing this cumulative update KB4495667, there is the probability of arising issues using the Preboot Execution Environment. It is to inaugurate a machine from a Windows Deployment Services server configured to use Variable Window Extension. Moreover, while downloading the image, it may bring to an end the connection to the WDS server before the due time. In addition to this, this issue does not affect consumers or any machines that are not using the Variable Window Extension.
You have the ability to disable the Variable Window Extension on "WDS server" in order to mitigate the issue. For this, use one of the following options –

Option 1 –
Launch an Administrator command prompt. After that type the following –

Wdsutil /Set-TransportServer/
EnableTftpVariableWindowExtension
:No

Option 2 –
You may also utilize the Windows Deployment Services user interface to fix this issue.

First of all, open Windows Deployment Services from Windows Administrative Tools.
Once opened, extend the Servers and subsequently do a right click on WDS server.
Now, Open its properties and navigate to the tab TFTP. Here, remove the Enable Variable Window Extension box

Option 3 –
Set the following registry value to 0 –

"HKLM\System\
CurrentControlSet\
Services\WDSServer\
Providers\WDSTFTP\
EnableVariableWindowExtension".

At first, disable the Variable Window Extension. Then relaunch the WDSServer service.

The company is still working on a resolution. It will provide an update in a forthcoming release.

Certain operations, such as rename, that you perform on files or folders that are on a Cluster Shared Volume

(CSV) may fail with the error, "STATUS_BAD_IMPERSONATION

_LEVEL (0xC00000A5)".

This occurs when you perform the operation on a CSV owner node from a process that doesn't have administrator privilege. A bug –

STATUS_BAD_IMPERSONATION_LEVEL (0xC00000A5)

may pop-up your Desktop when you execute a few specific actions such as –rename on files that are on a Cluster Shared Volume.

Generally, this issue gets revealed by doing an operation on a CSV owner node. Whereon the process that doesn't have administrator privilege.

Do one of the following –

·         Execute the work from a process that has administrator privilege.

·         Do the operation from a node. It should not have CSV ownership.

The team is still working on a resolution. It will provide an update in a forthcoming release.

Microsoft team and ArcaBit have classified an issue on devices with ArcaBit antivirus software installed. It may cause the system to become unresponsive upon restart subsequent to installing this update.
If ArcaBit antivirus program is installed on your machine. In this case, the team has blocked devices from receiving the update for a time

Moreover, ArcaBit has rolled out an update to address this issue.

Zone transfers between primary and secondary DNS servers over the Transmission Control Protocol may not get successful after receiving this update.
The team is still working on a resolution. It will provide an update in a forthcoming release.
You try to print from the Edge browser or any other Universal Windows Platform. This time you may get an unexpected bug

– Your printer has experienced an unexpected configuration problem. 0x80070007e

You have the ability to use another browser. For instance – To print your documents by using Internet Explorer.

The team is still working on a resolution. It will provide an update in a forthcoming release.

When you install KB4493509, on your machine having some

Asian language packs installed.

It may undergo the bug, 0x800f0982 – PSFX_E_MATCHING_COMPONENT

_NOT_FOUND

 Uninstall and reinstall any recently added language packs.
Click on Check for Updates. Subsequently, install the April 2019 Cumulative Update.

Note – If reinstalling the language pack does not alleviate the issue. Reset your PC as follows –

Go to the Settings app => Recovery.
Select Get Started under the Reset this PC recovery option.
Select Keep my Files.

The team is still working on a resolution. It will provide an update in a forthcoming release.
How to download KB4495667 for Windows 10, 1809 and install
Before installing the current cumulative updates KB4495667, we recommend you to install the latest SSU. This will improve the performance of the update process in order to alleviate potential issues. It also advises staying out of possible troubles while installing. To get KB4495667 through Windows update –
Step-1: Press Win+I and let Windows open the Settings app.
Step-2: Navigate to the Update & Security category and click on the same.
Step-3: This will take you to the Windows Update in the left pane, from here go alongside right.
Step-4: Do a click on the Check for updates option, and then wait for a while.
Step-5: When the searching ends, click on the Download option available under the found update. Once you finish the downloading process, Install the update using the on-screen instructions.
You may Download KB4495667 from Microsoft Update Catalog.
Source – Release note.