Here, in this article, we will learn on How to activate Internet Banking in Corporation Bank. If you are a customer of Corporation Bank, you can avail all the benefits of internet banking just by submitting an online application for the same in the branch where you have opened your bank account. If you have already filled the box containing internet banking option, you need don't need to submit a separate application.
It should be noted that there are two types of internet banking account. If you are an individual customer, you have to apply for Retail Banking. However, for those who are running partnership firm or limited company etc. need to apply for Corporate Banking. You will be allotted User Id and password in the branch where your account is maintained.
Another useful post:
How to activate Internet Banking in Corporation Bank
Apply for Internet Banking in Corporation Bank
Click any of these links further to Download Application Form either for Personal Banking or for Corporate Banking.
Fill up the application form and submit to the branch of the corporation bank where you hold your account.
The bank will process your net banking account and within 2 weeks they will provide you a slip having your user Id and login password. Note that User Id might be different from the ones provided by you if they are not available.
Activate
To Activate Internet Banking in Corporation Bank, click Corporation Bank Internet Banking Website. Write user id and password in the given boxes
They will first suggest you to opt for Secure Access Image and Message. Secure Access Image is an indication of whether you are looking for your own account or someone else when you access the account after activation. These two combinations just try to make sure that you are login to your own account and are shown in the screenshot above. You can also change Secure Access Image or message. These images are displayed immediately after the users entered the User-id. If it is displaying the correct Image and phrase, it means that the you are the genuine user. This is it. Make sure to keep your login password and authorization password safe from strangers or outsiders. Tick the box before Please confirm the Secure Access Image and message to login and click the green color Login Button.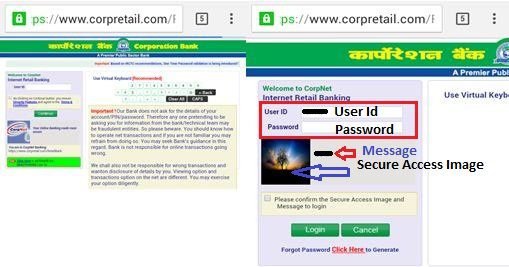 You are logged in and now you can operate your account.
For Retail Users
Activate Internet Banking in Corporation Bank Retail users will be given one User Id and login Password along with the authorization password. Any retail user can access their net banking account using their user Id and login password combination. He would be requested to fill the authorization password in cases where he does any transaction like Fund Transfer, Opening Deposit Account etc.
For Corporate Users
In the case of corporate Banking, One domain is provided along with a set of user Ids and login passwords. If a customer asks for authorization password, he is allotted by the Bank too.  It should be noted that viewing rights are given to all the user Ids but payment rights are given to those user Ids which are specified by the customer. Any user can login into his account using his user Id and login password.  Any user can do the transaction like Fund transfer, opening Deposit etc. however, the same should be authorized by another user who has the authorization rights. The One with authorization rights can allow the transaction using his authorization password.