Are you striving to Activate Local Group Policy Editor / Gpedit.msc in Windows 10 or 11 Home? Absence of Group Policy Editor in Windows 10 is a big headache for Windows 10/11 Home users. They get deprived of many features of the operating system due to this. So here you will see few tools which help you to run Group policy editor effectively on Home edition of Windows 11 or 10.
Group Policy is the tool that allows network administrators to modify enable, disable and configure many important settings. It holds all the settings as policy settings that can also be changed on your desktop. But unfortunately,=\ Microsoft doesn't include Gpedit in Windows Home.
Activate Local Group Policy Editor / Gpedit.msc in Windows 11 or 10 Home
Window 10 doesn't offer any built-in tool that can Activate Local Group Policy Editor. But you might need to enable some advanced settings that can only be done through the Microsoft management console (MMC) Gpedit. So the only way that remains is to take help of 3rd party utility.  Few utilities are performing very well in this regard. See below –
Policy Plus
Policy Plus is a freeware that perfectly Activates Local Group Policy Editor / Gpedit.msc in Windows 10 Home. This tool acquires the license to run on Windows 10 so you can run it without any botheration of violation of conditions. Policy plus resembles with the real Windows 10 Group policy editor and you will easily configure the settings from here.
Step 1 – Download Policy Plus from a Github repository. Once the download gets over, open the setup, and you will experience a simple clean interface having all the policy settings into categories and sub categories.
Step 2 – Click on Help followed by Acquire ADMX Files and select Begin on the pop up. This will download the complete set of policy definitions from Microsoft.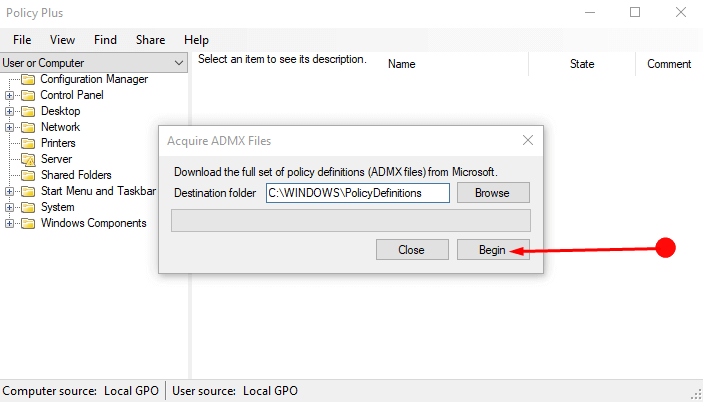 See a guide in this concern – How to Manually Update Group Policy On Windows 10.
Now browse the policy settings and configure the one you need as you practiced with the original Local Group Policy Editor.
Add Gpedit.msc
This is a tool that again activates Local Group Policy Editor / Gpedit.msc in Windows 10 Home edition. This is is free tool and doesn't claim copyright so you can download and use with freedom. See how to download and install this Add Gpedit.msc on your Windows 10 32 bit and 64-bit computer.
Step 1 – Go to Deviantart page to Add Gpedit.msc and download this tool using the Download button in the left pane.
Step 2 – Extract and install from the setup file to activate Group Policy Editor.
Different ways to start Add Gpedit.msc
On Windows 10 32 bit computer, you can start and use Local Group Policy Editor directly after the above process i.e. installing. But for 64-bit computer, you need to perform some extra tasks to make this utility running. Follow –
Step 3 – Go to the directory C:\Windows\SysWOW64 folder and locate 3 folders –  "GroupPolicy", "GroupPolicyUsers" and gpedit.msc.
Step 4 – Copy all the 3 folders and paste to C:\Windows\System32. Now access the Local Group Policy Editor by simply using shortcut or other methods. For example, you can learn to Open Group Policy Editor in Windows 10 Using 8 Methods.
Conclusion
Hence these 2 tools will help you pretty effectively to Activate Local Group Policy Editor / Gpedit.msc in Windows 10 Home. So you can change the settings and tweak your OS without having a risk of tampering in Registry Editor.