You may have encountered Cisco Error 27850 which hampers the installation of the application on Windows 10 OS. This error stops the installation process in the middle and appears every time you try to install the application. Well, error code also notifies a message that it is "Unable to manage networking component". Moreover, it also indicates that some corruption in the OS is preventing the installation. Read similar guide to Fix: VPN 800 Error Code on Windows 10.
So, in this guide, you can see steps that resolve the Cisco Error 27850 on Windows 10. The workaround is very simple as you need to download another software and use the latest version of Cisco VPN. If this doesn't fix up the issue, try out the Registry hack also. However, experts are with a view that there are two possibilities for this error to occur time and again –
1. By default, the OS restricts the number of network filter drivers to 8 only, and thus VPN client fails to get installed with this limitation.
2. The second probability is when you have upgraded the PC from Windows 7/8/8.1 to 10.
In this concern, you may like to learn more about Windows 10 – How to Remove PPPOE or VPN Connection.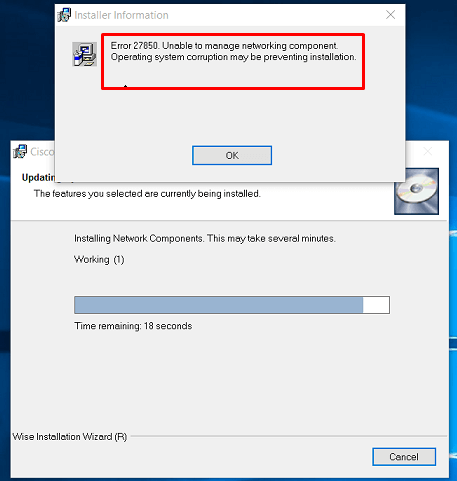 Now, let us walk towards the sure shot solutions to solve this specific error.
Cisco Error 27850 Preventing Installation on Windows 10
Solution 1 – Download and Install DNE
Step 1 – The first thing you should do is ensure that the Cisco VPN Client you run is at least 5.0.0.7 version or higher.
Step 2 – Moving ahead, visit Citrix DNE Support page. Scroll down until you see two links to download DNE. Depending on what version you prefer, 32-bit or 64-bit, download DNE on Windows 10 PC.
Step 3 – Once the download of DNE file is over, install the same on your Windows 10 OS.
Step 4 – Finally, again give an attempt and install Cisco VPN Client. As DNE is installed, you should not see Cisco Error 27850 during the installation procedure.
Solution 2 – Registry Editor
Using Registry Editor you can increase the value of network filter drivers on your PC. But before you proceed, ensure to Import and Export Registry Editor on Windows 10.
Step 1 – Type regedit on Cortana and select the same that shows up below the Best match section.
Step 2 – Click Yes when you notice UAC on the PC screen.
Step 3 – Navigate to the destination key given below –
HKEY_LOCAL_MACHINE => SYSTEM => CurrentControlSet => Control => Network.
Step 4 – On the right panel, corresponding to the Network key, locate and double-click a DWORD namely MaxNumFilters. Type 14 in the Value data field and select Decimal radio button and in the end, click OK and restart the PC to increase the number.
You may be interested to know How to Create a New DWORD Value in Registry Editor on Windows 10.
Note – Once you select Decimal, the Value data gets changed to 20.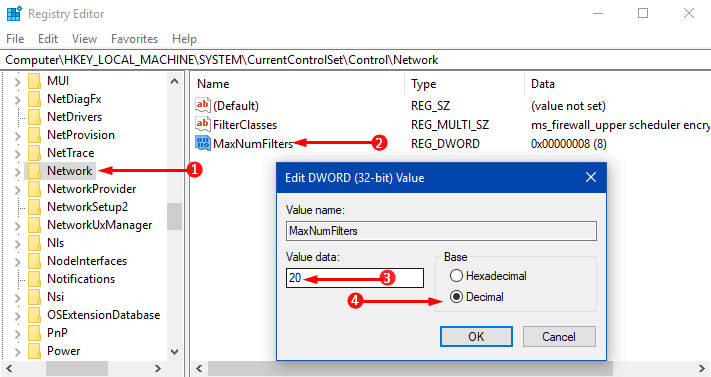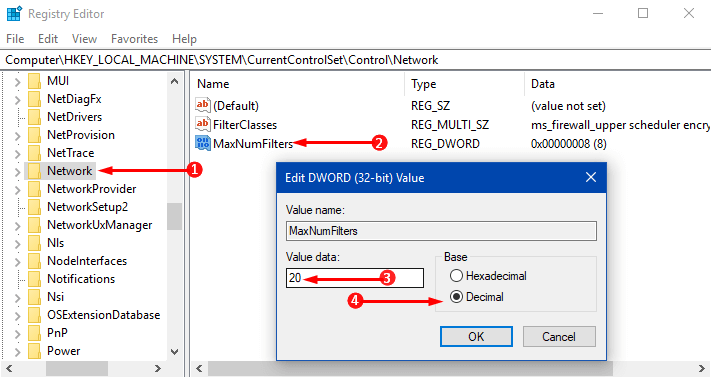 After rebooting, try installing Cisco VPN Client and you should not face any hindrances in the installation process.
Conclusion
So, these are the two possible solutions that can fix Cisco Error 27850 on your Windows 10 computer. So, give a shot to the solutions and tell which one helped you to overcome this error while installing Cisco VPN Client. Also, let us know if you have more workarounds to get rid of Cisco Error 27850.
Repair any Windows problems such as Blue/Black Screen, DLL, Exe, application, Regisrty error and quickly recover system from issues using
Reimage
.