Addition of Custom color to Folder icon equips you with extra hands to organize and personalize your desktop. Suppose you save different types of data in multiple folders then you can classify by coloring them separately. Also, if multiple users run your PC they find options to make complexion wise arrangement using this way. Most of all, you get a fresh experience with your personalized folders after adding the desired color.
Windows 10 including its predecessors provide Folder icons with default yellow color. There is no any straightforward way or built in tool that allows you to make a change to its look. But few very nice utilities are available on the web using which you can experience colorful icons of folders in File Explorer.
When you add Desired Color to Folder Icon in Windows 10 you will find this guide very helpful as it presents the name, download location paths, the way to use, and specific features of the important tools. This change doesn't only give you the experience of the personalized component but also helps to perfectly arrange them.
How to Add Custom Color to Folder Icon in Windows 10
See the simple to use tools ahead including methods to use them.
Folder Colorizer
If you like to Add Custom Color to Folder Icon in Windows 10, Colorize is the optimum option. It's an uncomplicated to use tool and lets all the work done in mere few clicks. Colorize offers you embellish folders with sweet colors without going to a separate interface, but it simply adds to the context menu. See the way –
Add Custom Color to Folder Icon in Windows 10 with Colorize
Step 1 – Download this application from the Softorino and once it gets completed, double click on FolderColorizerSetup and follow the onscreen instructions for installation.
Step 2 – Right click on a folder and put the mouse cursor on Colorize!. In the sub menu select your desired one from the list of 8 colors and wait for few moments. If you aren't happy with the selection, then choose another one and do the same.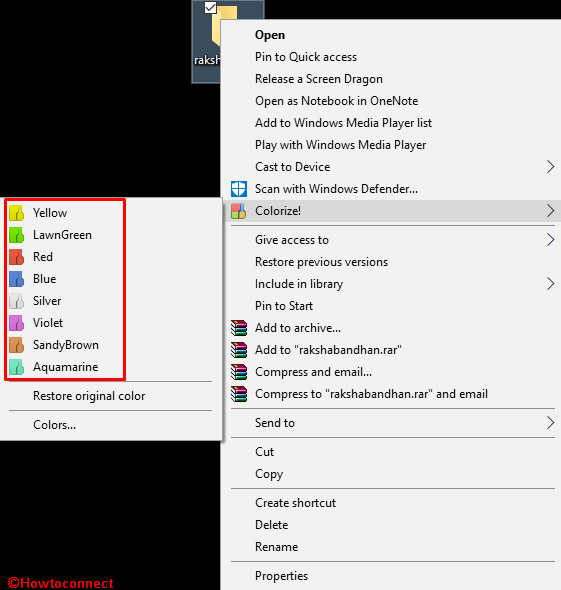 Step 2 – Still, you desire more then click on Colors… and allow a window Folder Colorizer to open. Choose one from the circle in the bottom and Select Add color.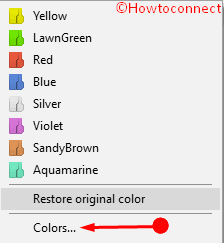 Step 3 – In order to revert back to the default, click on Restore original color.
Get from here – https://softorino.com/utilities/
Folder Marker
This is a nice application that offers to add letters, color, every day, and custom icons to your Folders. You can mark them with color-coded icons simply and quickly to personalize your workspace. Follow how to use Folder Marker in Windows 10 –
Step 1 – After you open Folder Marker, you find an intuitive interface having lots of options and menus. You can take actions to Apply icon changes, Customize "Mark Folder" menu Make Folders Distributable by default, Keeps Folder's Date Unchanged, Roll Back Changes, Backup and Restore customizing data.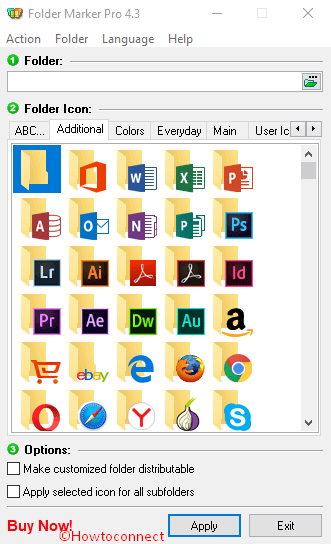 Step 2 – For personalization, click on the folder icon, browse, and then select the location.

Step 3 – If you plan to arrange your Folder alphabetically, Click on ABC tab and select a letter from the box and then Apply. Before this, you can check the boxes "Make customized folder distributable" and "Apply selected icon for all subfolders" according to your preference.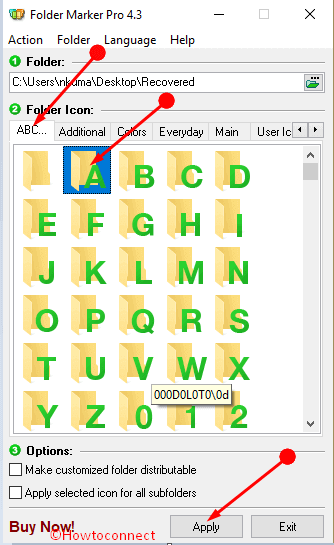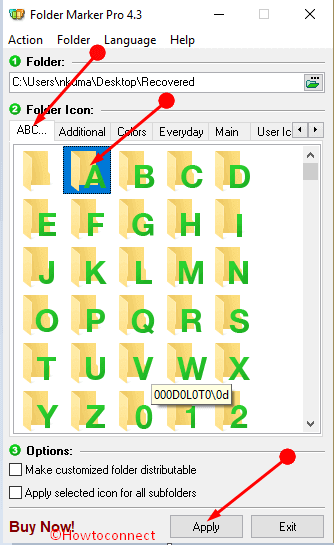 Step 4 – To implement specific icon of browser, messenger, Social media, popular application click on Additional and select one. Click on Apply.
Step 5 – If you want to organize by classifying colorful folder then select Colors menu, opt for your favorite and click Apply.
In addition, you can add your own icon from the Windows default icon collection.
Download from here – http://foldermarker.com/en/
FolderIco
This is a freeware similar to Folder Marker and mostly allows you to create or import Library for custom icons. It provides to add 3D, overlays, Edit, change color and so many things to customize the appearance of folders. Take a look at how to use FolderIco –
Step 1 – If you already contain a collection of Icons then click on Library followed by Create New Library. Type its name and select OK.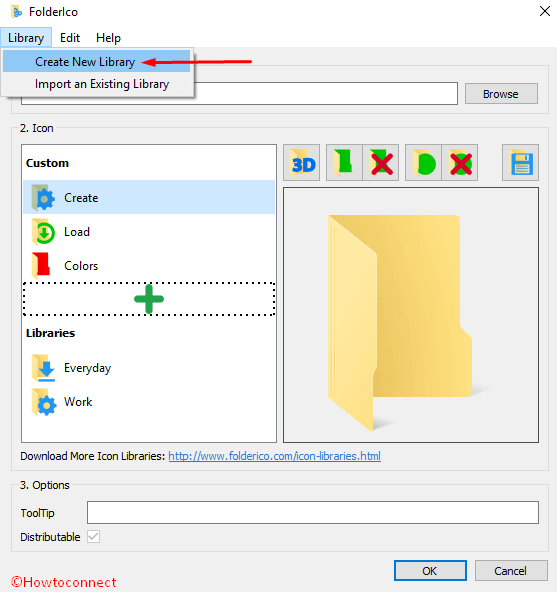 Step 2 – You will find the new library is created in the Custom tab in the left pane of the application. Now add your desired one using Plus mark in the right pane and save by clicking OK.
Step 3 – To use Colors, Everyday, and Work to add vibrant and grandiose style to your icons click on Browse. Select the one from your system and click on Colors. Choose your favorite color from the right pane and click on Ok.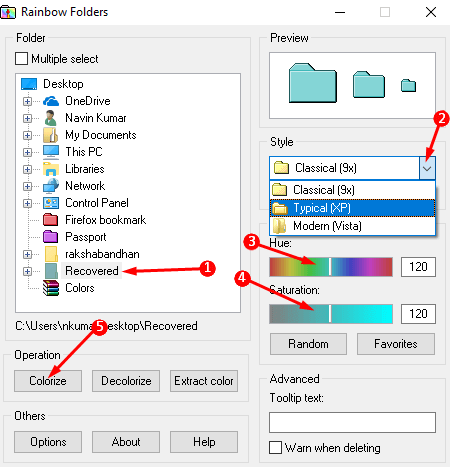 Grab – https://www.folderico.com/download.html
Rainbow
Rainbows is a small application works for personalization of folder icons. The user friendly interface of this app lets you add custom color to Folder Icon in Windows 10 easily in a couple of clicks. If you are a lover of classic or high contrast icons then it's absolutely perfect for you. Rainbow fetches all the folders list automatically so you don't need to browse and select a folder. Get through the method of using ahead –
Step 1 – Once you open Rainbow you will view 2 panes Folder and Preview. Click on a folder from the left pane, select the Style from the drop down, and choose a color in right, and select Operation from the bottom.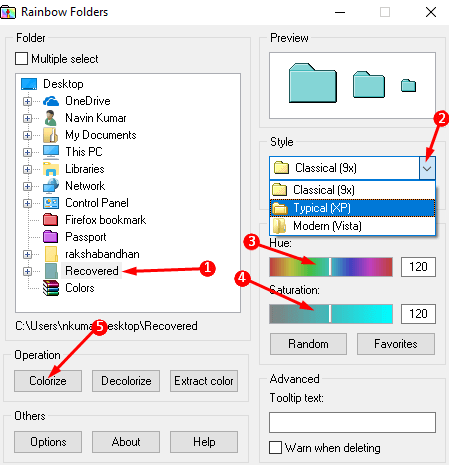 With a view to restoring the original, click on Decolorize.
Get from Softonic – https://rainbow-folders.en.softonic.com/
Conclusion
By the way, there are a number of applications available to Add Custom Color to Folder Icon in Windows 10. But the given are the best and while using them you will not experience any complication. So if you find them useful enjoy elegantly personalized folders and don't forget to inform us through comment.