With Fall Creators Update, the built-in digital assistant gained an ability to connect Google services on Windows 10. This newly added feature lets you Add Gmail Account to Cortana pretty easily. By doing so, you can access contacts, messages and calendar events directly from Cortana. Moreover, for certain operations, it also supports voice commands.
Windows 10's revolutionary feature Cortana is a digital assistant for the users. It looks up information on the computer as well as internet when ordered. You can either type in your query or give voice commands to this virtual assistant. However, Redmond, which is popularly known as the home of Microsoft is trying hard to improve it more in near future. And one such feature is to Add Gmail Account to Cortana.
In addition to the above feature, you can also Use Cortana Voice Commands to Lock, Restart, Shutdown, Sign out Windows 10.
You can accomplish this task through Cortana's Notebook.
How to Add Gmail Account to Cortana in Windows 10
Step 1 – Launch Cortana on your computer and click on the Notebook icon from the left pane (see snapshot).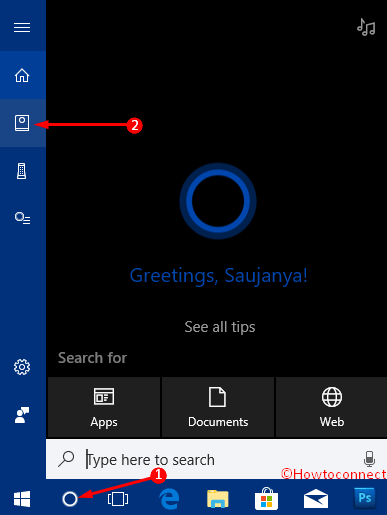 Step 2 – On the adjacent right pane, you notice two tabs, click Manage Skills. Scroll a little and select Accounts as shown in the given picture.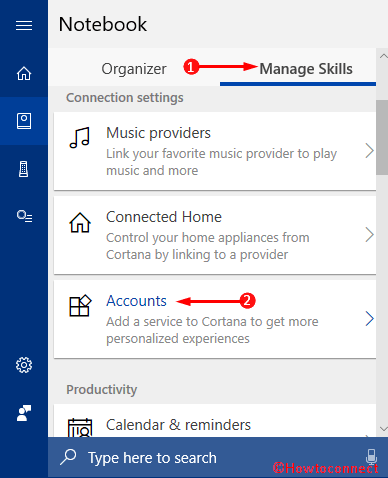 Step 3 – Moving ahead, click Add a service in the Accounts section.
Step 4 – From the list of services, select Gmail.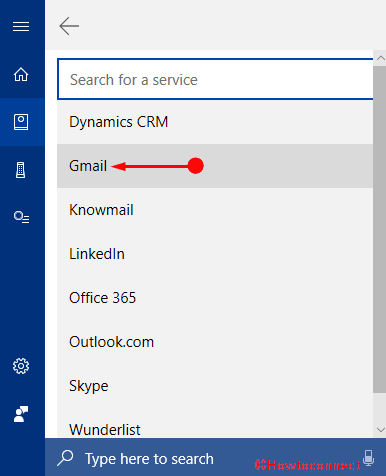 You may also like to Search Office 365 Through Cortana in Windows 10.
Step 5 – On the next screen, the digital assistant describes everything that you can do once you Add Gmail Account to Cortana. So, click the Connect button to continue.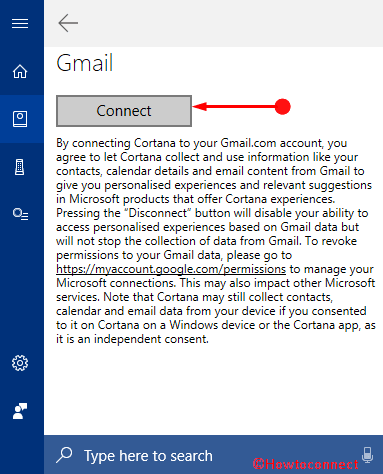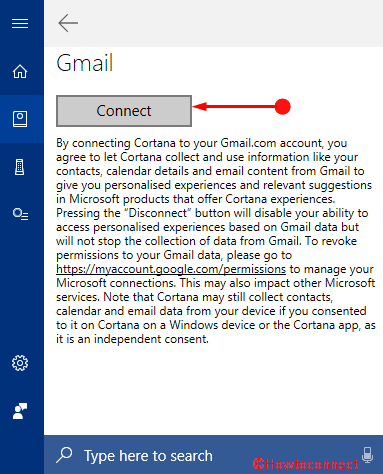 Step 6 – A window opens up where you have to provide your Gmail account credentials. So, first type in the email id in the respective field and click Next. When asked for the password, enter it to proceed.
Step 7 – After entering your account details, click Allow and let Coratan access your information. Wait until Cortana set up your Gmail account.
Once you successfully Add Gmail Account to Cortana, ask it about events going on Google's calendar tomorrow.
Conclusion
Cortana is the most popular visual assistant having artificial intelligence. Microsoft is working a lot to improve it further. Amazing features like Create Collections in Cortana in Windows 10 got recently added to it. Access to adding features like Gmail, Google calendar and so on are making the lives easy for the users. We have come to know a very simple way in order to Add Gmail Account to Cortana here. Hope you can find it easy and amazing upon application.