You will be delighted to know that you can easily Create Desktop Shortcut to On-Screen Keyboard on Windows 10 and 11. This virtual keyboard is a bit special to the users because of its features. Sometimes, because of hardware breakdown, you fail to Sign in Windows 10 without Physical Keyboard. At this time, this visual keypad comes quite handy to use.
You frequently encounter hardware damage like dreadful keyboard and mouse. But with the On-screen keyboard (viz OSK), you can type anything using the mouse at it displays on the PC screen. Not only that but also you can have the access to change the language by installing them which a physical keyboard lacks. So, it's always a great idea to Create Desktop Shortcut to Onscreen Keyboard. Let's proceed with the action.
How to Create Desktop Shortcut to On-Screen Keyboard on Windows 11 and 10
Way 1
Step 1 – Type Run in the search box located beside Start menu and hit Enter. As an alternative, you can use hotkeys Windows + R to launch the same.
Step 2 – Upon opening the Run dialog, type explorer /select, %WINDIR%\System32\osk.exe in the text field and click on OK.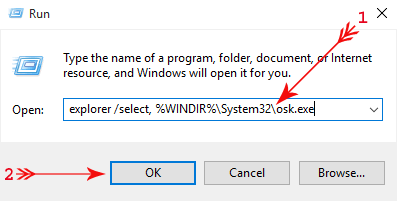 Step 3 – Operating system directs you to the path C:\Windows\System32\ folder and automatically selects osk.exe.
Step 4 – Right-click on it and hover the mouse over Send to. On the submenu, select Desktop (create shortcut).
Once you successfully Create Desktop Shortcut to On-Screen Keyboard, the keypad is always at your fingertips.
Way 2
Step 1 – First of all, execute a right-click somewhere on the desktop. Hover the cursor over New and select Shortcut as indicated in the below picture.
Step 2 – On the Create Shortcut dialog, type OSK in the provided text field and click Next.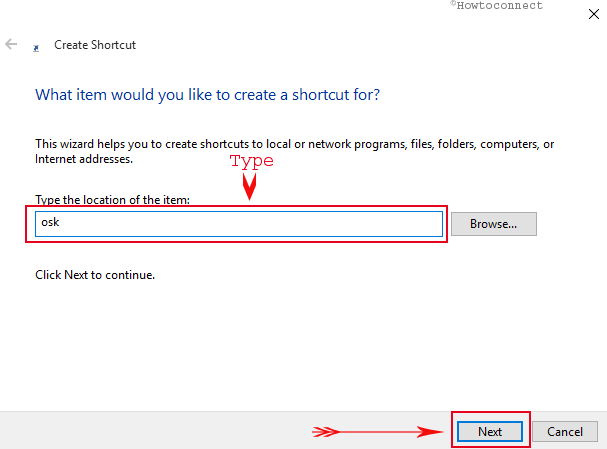 Step 3 – Now, assign any name to the shortcut as per preference. However, for better understanding, you can type On-Screen keyboard and click Finish.
Step 4 – Finally, you get to see a shortcut file generated on the desktop.
Conclusion
The On-Screen Keyboard usually displays a visual keyboard on Windows 10 starting screen. It also contains all the standard keys. Users can use mouse pointer in order to press the keys or touch the screen if the touch feature is available. This feature has become so popular that most people are using this keyboard even after having the physical one. We will discuss the way to Create Desktop Shortcut to Onscreen Keyboard on Windows 11 or 10 here.
The on-screen keyboard is an amazing feature of Windows 11 and 10. Starting from the ease of access to the accessing of multi-language will offer an extraordinary experience to users. However, we have already discussed the easiest way to Create Desktop Shortcut to Onscreen Keyboard on your Windows 10 computer. Enjoy the superb features of OSK with a single click after applying these steps.