Adios Amigos is a Windows 8 app launched lately for those who want to find out the identity of people who unfriended them on Facebook. Amongst the netizens, any Facebook related activity has become a source of enthusiasm towards knowing more. So if you are having a huge amount of friends on Facebook it is sometimes difficult to find out that someone has unfriended you. This is the sole purpose of this app to help people know it and it comes free of cost.
The interface can't be more simplistic than this in the manner that it rarely has any sophisticated settings, and it's just very simple and easy even for a naïve person. A screenshot of this app is shown below: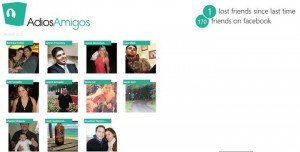 You can have access to this app from the Windows 8 Store.
How does Adios Amigos Work
It is obvious that the app will require a login to get access to your account detail. So the interface that follows the above prompts you to enter the username and password into the respective fields and hitting on log in button at the right bottom corner to proceed further. Now when you have done this a new screen will be shown to you. Thereafter you are asked to grant permission to the Adios Amigos to get access to all the files and information that is present on your Facebook account.
After doing all this you will be taken to the interface which looks like above where you will be able to see the name and profile photos of the people who have unfriended on Facebook at the right top corner with the count of total friends on your account. The message might disappoint you. You are lucky if you get a message displaying no friend is lost (that is something relaxing)
Now Facebook does not have an inbuilt function to know who has removed you as a friend and doing it manually by going through your friend list is a tedious job particularly when you are having more friends. Sometimes it might feel bad to know that somebody has removed you, but it is something worth knowing so that in the future you can respond to this activity of the person by directly asking him or her.
The app has a simple concept which it has implemented in an easy way, but it looks further in time to develop it to include more features like storing messages, pictures, and statuses of your removed friend.
Key Features of this App:
Finds people whom you removed or who unfriended you.
Free of cost and very easy to use.
Toast/tile information.
It does not collect personal information.
It does not disclose it to a third party.
Conclusion
Adios Amigos is a good app for a Windows 8 device and you can keep yourself updated on the part of the social life where the people have removed you or not. This is a must try app for those who love knowing about the social people on internet.