90di Internet is a website where people may get Indian Railway, IRCTC, Flight, Bus All Info at a single Platform.  This website provides train, flight, bus schedule and all the other related information such as fare and availability. You can book your ticket through 90di because it has navigation to IRCTC, Buses and Flights online booking website. Its interface displays all the boarding options and has the updated data for reference and planning a trip. The interface is very comprehensive and easy in the sense that each step is self-guided towards the other. Hence, there are no issues in handling this website.
How useful 90di Internet is 
Several times you come across the situation where you seek for an alternative option to make a trip if the one that is preferred, is unable and this 90di Internet comes handy in this situation enabling you to search through the other available routes and boarding options. In this way, this website helps for a quick search. Also, the mobile version and blog exist for 90di so you can get access to it using your mobile devices in case of emergency.
How does 90di Internet work 
On the whole, there are four different tabs on the web page more commonly required to be explored. These four tabs corresponds to the possible boarding options and each can be clicked for getting an answer to the query. Below is a short description on how can you use to get the required information.
1. All – For a general query on any of the travelling modes you can use this option. When you click on this tab a search bar is displayed where you can enter the keywords for the routes. A screenshot of this interface is shown below.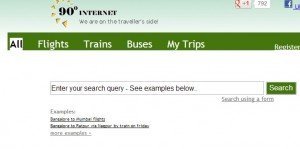 2. Flights- In the above snapshot you can see the Flight button next to All. When you click on this option you are directed to an interface where you have to input the source and destination, Class and date of journey. Once it is done you will be shown all the flights that fall under the time and place that you have entered, and you can get information about its arrival and departure, duration as well as travelling fair. You may get both domestic and International trip info.
3 .Train and Buses– The process for getting the information for buses and train is similar to the above wherein you just have to input the places from where and to which you want to travel within your time of trip. The information for the train is extracted from the Indian Railways so in that manner the data is correct and is presented in concise form. I have shown a result of a query for train from Mumbai to Delhi as an example below.
You can also register and sign in to the website to subscribe to it, and the website will notify about the latest development and features to make it more efficient.
Opinion
There are many websites that cater to the need of travelling information, but this is different in a way that you can explore all the travelling modes in a single platform by clicking on to various travelling options thus saving your time and energy. It is a useful website overall with respect to the ease with which it can be used to pull out the answer to the required query.