Alarm Clock HD is a free windows 8 App. This is much more than merely a simple alarm clock. It is a combination of different exciting kinds of stuff of windows 8. It consists of various multimedia and utility apps. It provides you various settings regarding fixing unlimited number of alarms, their respective notes, snooze time, and tunes along with creating themes for your favorite pictures and music playlists for different music tracks. Alarm Clock HD app is also used to provide you notifications of posts being published on your wall and your friends. You could also know different things using this app like weather, flash time, sleep time, currency, internet radio, RSS feed reader, Facebook feed reader, exchange rates and many others.
The interface of Alarm Clock HD app is kept neat and clean. You might be thinking that providing such nice facilities must take it more space, however, this is not so. It is a lightweight app. It consists of adjustable settings which you can customize according to your own desire. The background can be easily changed here on this app just using your own collection of photos. A screenshot of this app is shown below: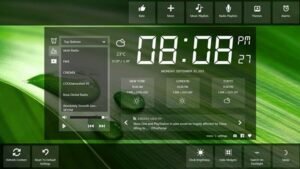 A link has been provided at the last of this article from where you can access to its official website.
How to use different things of Alarm Clock HD app
This app is no doubt a much productive app than any other existing app of windows 8. This app not only gives a cool looking clock along with useful widgets, system date, and inbuilt free HD backgrounds, but it gives you a lot of options that you can do using the app. You can listen to internet stations or play your favorite music tracks stored locally or in SkyDrive. Along with all these good stuff, this app also provides information about the weather at your location, plus the time, weather information, and currency exchange rates of three hubs of the world (New York, London, Tokyo). Knowing Weather about different places is a good thing directly from your place. Again, the information about exchange rate is quite useful especially for those who are in the business world.
There are certain things which require an internet connection here on this app and certain other things which don't require this. Those which doesn't require an internet connection are explained first.
1. Setting Alarm and Using Alarm Clock HD Windows 8 App
You can set a simple alarm using this app. However, there are various new things added to it in comparison to a simple alarm. The use of light sensors is a pretty cool thing on this app. Using light sensors, you can switch off the alarm set by you automatically without even waking up and switching it off. All you have to do is to switch on the light tube of your room and it will stop ringing. Besides that, these flyouts also consist of other powerful buttons that include: Clock Brightness, Hide/Show Widgets, Sleep, Wake Up, Music Playlist, Radio Playlist, Themes/Background, Alarm, Refresh Content, Reset To Default Settings.
2. Generating themes and Music Playlists
You can create themes for all the beautiful pictures stored in to your local drives. Similarly, you can also create a playlist to listen to all your favorite songs here on this app.
This app doesn't need internet connection to perform various stuff. However, it requires internet connection for certain things which are described below:
1. Internet Radio
To listen to internet radios, you go to a particular section and click on it. You can also create your own radio station. For doing so,  click on Radio Playlist to create your own radio stations playlist. You can also delete or manage any particular radio station too using Radio Playlist. In order to set or change the background simply click Themes/Background button. And to set an alarm clock on Alarms button. All the fields and buttons are very self-explanatory, and it won't take time for you to use them.
2. Facebook feeds
If you wish to get Facebook feeds using this app, Open up the Charm settings of Windows 8 by clicking Win+I. Here, you have to click on News feed, change the feed type by using the drop down menu, and put there Facebook feed. This app will open a new window asking your username and password to login in to it. Once you put down your credentials there, it is done and you will be getting all your Facebook feeds right here on this app.
Along with this, you can also change the feed drop box menu to normal news and you will get then news around the world. It keeps you continuously updated with what's happening around you and in the world. It gives news feeds from popular news websites and sources right at the main screen. These news feeds are continuously updated, and get refreshed every 5 seconds. One interesting thing about this app is that you can jump to the next or previous feed from the same screen without even going back to main screen.
Key Features of Alarm Clock HD Windows 8 app
Get the latest weather for your current location and 3 world clock locations
Get the time, weather and currency exchange rate for any 3 cities in the world simultaneously
A large Number of Roaming Alarms
Create themes for pictures and music playlists for your favorite music tracks
Allows reading your Facebook posts written on your wall directly from here
Various settings to customize the clock with different colors
Customize every detail of the app with extremely detailed customization options available
Collection of 70+ internet radio stations also allows creating of your own radio station
Alarms can be switched off automatically using the light sensor i.e. switching on the room light
Use the built-in sounds OR add set your own alarms. You can set a radio station too as your alarm
Conclusion
Alarm Clock is one of the finest Windows 8 app. This app not only allows setting alarm to wake up yourself but is a mixer of various important stuff which we love in our daily life like listening to music, seeing what is going on our Facebook profile. It's functional, handy, and easy. The app does need internet connection to work fully. Try Alarm Clock HD app for one time and know yourself the good features of this app.