To get higher rank in Search Engine Post Title Optimization is very important. Title is the Entrance Line of a post. In Google Search users inter into your post through title. It influences search engine ranking. Post Title optimization is one of the most important part of SEO Practices. Title helps users in deciding whether they should read the post or not. A good title attracts users and impels to read the post. Post title of your website is capable to fulfill your dreams of getting your site at high rank in Google search. This is why you should concentrate on the Post Title Optimization.
Google webmaster always recommends making site and pages for users and not for search engine.  But practically, we have to care for the targeted users and search engine as well. Actually we have to establish a balance between users and the search engine in writing post title, content and in every part of a website. So art of writing Post Title can be divided into two parts:
For Search Engine
For Targeted Users
Post Title Optimization For Higher Search Engine Ranking and Better Indexation
 Title should maximum have 64 to 69 characters:  as Google shows approximately 65 characters in search result. If you write a title having more than 69 characters long then its longer part will be cut off in search result. So write a title that users can read the full title text and make an idea about the post written under this. Few modern studies on SEO reveal that Googe Search Engine measure title in Pixel and not in Characters. Overall 64 to 69 character is ideal.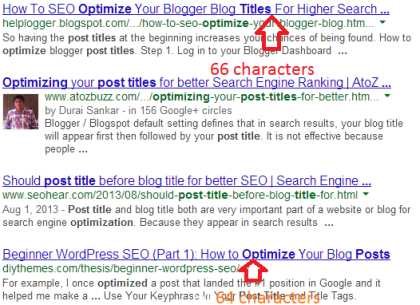 Use targeted keywords in the opening part of Post Title: Keyword in the initial part of the title helps search engine to understand your content.
Don't repeat keywords: When you write a keyword more than once Google understand it as keyword stuff or not a fresh content. So it harasses indexation of the post. So, don't repeat a keyword in your post title.
You can use the website name with title for promotion of your website.
Don't write a title too short: To short titles hurt SEO Practicses.
Post Title Optimization For Better User Experience
Make Post Title relevant to the post content and URL:Title tells users what your post is about. It reflexes the content written in your post. So title should be relevant to the post content. As for you are writing post on Cofee House, Cofee House keyword should be in Title. If you write irrelevant title people will come to your post to read, but they will bounce. These types of titles increase bounce rate.
Write Title readable: A readable post title impacts users more and enforces users to click and read your post. Title made with keywords and making no sense looks ugly and does not attract user's attention. Difficult words and proverbs used in a title makes a bad user experience. Collect the keywords  group that makes a good sense and can be read easily.
Write Attractive Title: Make a title that attracts user's attention.  Write title that impacts emotions of users. After looking these types title users will come towards your post even it is below in search result. Rest of the work will be done by content. In the image below the first title is normally indicating about 10 best features of Microsoft word, whereas in the lower post the subject is same, but in the title You don't use enhances the curiosity of a reader. Hence when user search the lower post title will attract more than the earlier one.

Afterall I would say that one should be wise during writing Post Title. You should use Keywords wisely and arrange these keyword in the way that an attractive sentence like title is created.
Although better user experience is responsible for high search ranking even more. But here I a have divided post title optimization into two parts to make the things more comprehensive