The Recycle Bin in Windows 10 accumulates all the specific items removed across all the disk drives so that they can be recovered while being required. In easy terms, it acts as a safety net to all the items that are eliminated. Recycle Bin has its own capacity depending on the size of each partition of the system to store so many deleted items. And when this waste bin runs short of space it automatically wipes out the earlier items in order to adjust the new ones. Thus focusing on this space issue, we will pen down the steps for How to Allocate Custom Size to Recycle Bin on Windows 10.
As per Windows default behavior, the 10% space of a partition is reserved for the Recycle Bin storage. Let us explain this with an illustration. If the partitions D and E are of 100 GB and 50 GB each, then by default Recycle Bin folder is capable of piling deleted items of up to 10 GB for D and 5 GB of E respectively. So, when the amount of the deleted items of those partitions gets exceeded, Recycle Bin automatically wipes out the accumulated stuff to make space for the new ones. This leads to losing important items that you may not have meant to remove at all. But, you can always change the size of the Recycle Bin of all the drives in Windows 10. Let us now begin with the steps for How to Allocate Custom Size to Recycle Bin on Windows 10.
How to Allocate Custom Size to Recycle Bin on Windows 10
Locate the Recycle Bin on your desktop and continue with a right-click on it and pick up its Properties.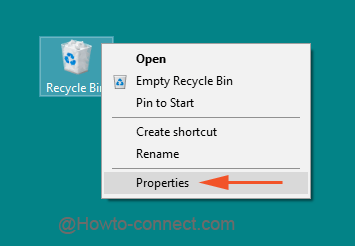 All the present partitions of the computer will be visible along with the details of their spaces.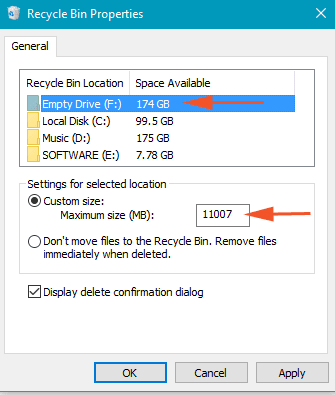 Each partition will display distinct Custom size in MB. Choose the drive for which you prefer to change the size and enter the MB size in the Custom Size box.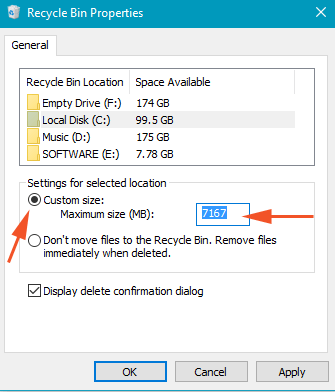 Confirm to check the round cell of Custom size to assign the number.
After allocating the sizes for the required drives, click Apply and Ok buttons.
Customization of Recycle Bin size is very much required as you lose the vital items from Recycle Bin when it falls short of space. So, for better lasting and also to avoid accidental loss, you can increase the volume of the Recycle Bin for the necessary partitions so that it can pile up huge items when they are discarded.