Windows 10 offers you a new policy called Allow Cloud Search in Group Policy Editor. This setting indicates that you can prefer to search cloud contents on Cortana and search. If you enable this policy, the OS lets you explore cloud items such as OneDrive and SharePoint in search and Cortana. In this concern, you can also Enable / Disable OneDrive Usage in Windows 10.
Well, Group Policy Editor explains this Allow Cloud Search policy as –
"Allow search and Cortana to search cloud sources like OneDrive and SharePoint."
So, hook to the guide and let's learn the location of this setting in Group Policy Editor and how to use it.
Allow Cloud Search in Windows 10
 Note – Ensure to hold all the administrative privileges to follow and implement the steps.
Step 1 – Open Group Policy Editor to Allow Cloud Search in Windows 10 OS. So type gpedit on Cortana text field and press Enter key when you notice Edit group policy below the Best match section.
Instead, you can also Open Group Policy Editor in Windows 10 Using 8 Methods.
Step 2 – Navigate to the following path and reach the destination on Group Policy window –
Computer Configuration => Administrative Templates => Windows Components => Search.
Step 3 – On the corresponding panel of Search, you can see various policies. So, locate and double-click a policy namely Allow Cloud Search.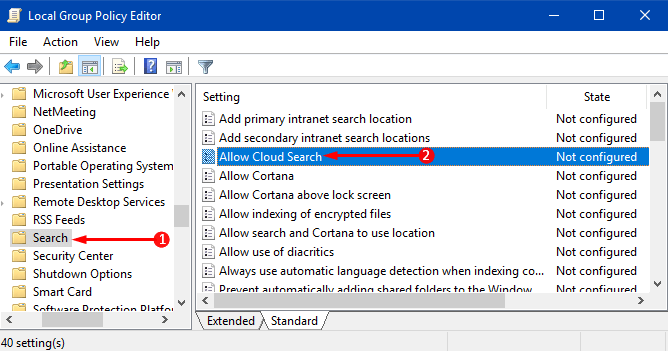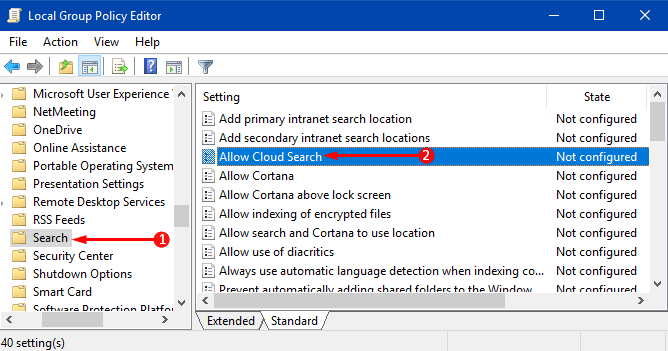 Step 4 – When an edit window of Allow Cloud Search opens up, select Enabled dot on the upper left portion.
Step 5 – This also enables the Cloud Search Setting drop-down. Select either User Selected or Enable Cloud Search options from the menu. After choosing the option, click Apply and OK to make the search changes effective.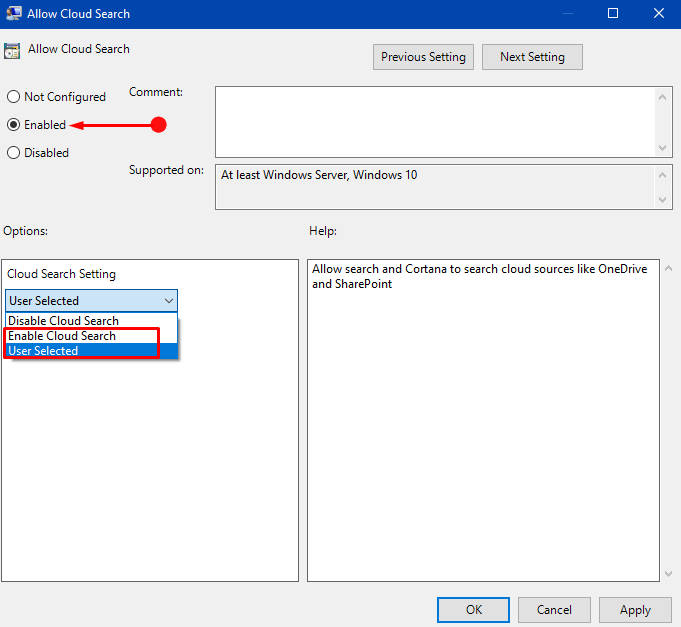 Note – In case, you don't prefer to use this policy, choose Not configured or Disabled dots.
If you always prefer the digital voice assistant, then read our related guide on How to Use Cortana Voice Commands to Lock, Restart, Shutdown, Sign out Windows 10.
Conclusion
Hence, following these easy steps, you can easily Allow Cloud Search in Windows 10. Once you configure this specific setting in the Group Policy, the OS lets you search cloud sources. However, if you are familiar to Cortana, you should know that she provides many such interesting features for the users. Well, if you have more tips to search cloud items in Windows 10, do write to us.