In this post, you will read to scan and Fix Office Problems Using OffCAT (Microsoft Office Configuration Analyzer Tool). In case, you use to work with basic MS Excel, Word document or another application of MS Office and are undergoing issues after the installation you would be able to find fix using this tool.
When you scan your computer with OffCAT it collects errors and issues in the app of Microsoft Office whether it be Word or Excel or Powerpoint or any other. After the completion of scanning, it displays a report on which you can see the errors found in your application. Apart from that OffCAT provides you links concern to the problem. When you click the link you reach the web page of Microsoft support page (knowledge base articles) to Fix Office Problems Using OffCAT having solutions of the particular issues. the  In many situations, it is simple to solve the problems but in some cases, an intense examination is needed.
You may like to read:
Note: Before going through the steps, download and install the program in your system. The program supports all the versions of Windows and most of the programs of Microsoft Office. Also, you need .Net Framework 4.5 installed on your computer to successfully run this program.
Download link – OFFCAT
How to Scan and Fix Office Problems Using OffCAT in Windows 10
Open your Windows 10 Start Menu and click All Apps.
Go to the "M" section and click Microsoft Office Configuration Analyzer Tool. Or you can also access the program from the Search field.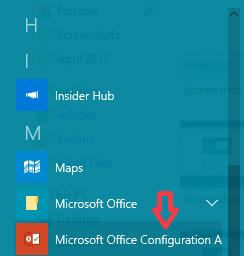 An OffCAT window opens up on your screen. You can select your preferred program of MS Office.
You can choose one or multiple programs. Click on the program(s) followed by a click on the Scan button.
Or click More applications to see other programs of the Microsoft Office.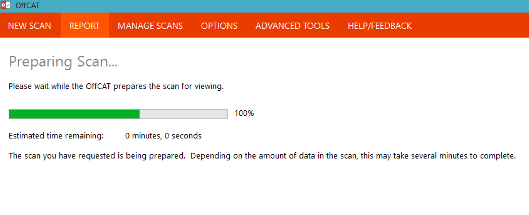 After the completion of the analysis, you can see the reports of the programs with their links.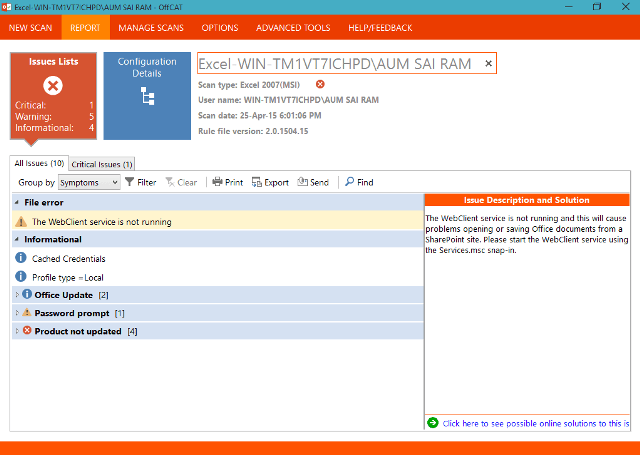 To see the details of the issue, click on the link of the reports. The link leads to the respective pages of Microsoft support website where its explanation and the necessary solution is available.
The Group by the option of the Reports tab also allows you to view problems either by class, severity rather than symptoms.
You can also Export, Print, or Send information.
The Advanced Tools tab permits Outlook real-time logging and calendar checking tool.