Windows 10 users might experience BAD_POOL_CALLER Windows 10 error even they use a new computer. BSOD error is really annoying as well as dire too. Sometimes your computer may make a terrible noise and then shows frightening blue screen of death on the screen. But don't worry we are here to put an in-depth-analysis on BAD POOL CALLER issue which will include causes and promising workarounds.
Of course, you might be frightened seeing this error despite using a literally new computer. But the error is not that outrageous like its name. Definitely, any error in the startup is a buzzing issue and need resolution immediately. Experts found the root cause of this error. They said, Computer experience this sort of errors i.e. BSoDs when it doesn't actually know something how to process. As a result, the computer shuts down itself in order to protect itself and prevent any kind of further damage. Sometimes if you restart the PC after this happening, the error doesn't reappear. However, this is not the perfect as well as a reliable solution. Anything which is responsible for this error is so indefatigable that BSoD is appearing repeatedly.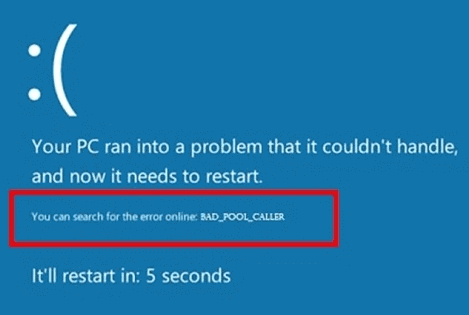 How to Fix BAD_POOL_CALLER Windows 10
Before moving ahead it is relevant to dig out the reasons that affect your Windows 10 to display  BAD_POOL_CALLER error. Have a look at the causes –
Outdated Driver
Outdated Driver is the prime cause of this Blue screen error. Microsoft sends updates on a regular interval to keep Windows 10 intact and when your driver is not updated accordingly it creates mess up.
Crashing
Users are repeatedly complaining that this very error comes with a feared blue screen associated with a bad pool caller crash. Most of the time, the result of this error is not so delighting.
Overlocking
Numbers of users overlock their hardware in order to achieve maximum performance. This issue can occur due to this so while fixing up this, you must remove all sorts of the respective settings.
3rd Party application
Some third party applications often produce this error to appear and uTorrent may be one of those. Many of the victims reported that after removal of the same, the issue gets resolved completely.
Antimalware applications 
Anti malware software like Avast, ESET, Kaspersky as well as AVG can also cause this error. We have received lots of complaints from the users regarding this.
RAM
Hardware issues can cause this error too and in this condition, the most common suspect is the RAM. As a matter of fact, replacing RAM is the resolution of this case.
Corruption in system files
Prior to throwing this error message, you may find the crashing of tcpip.sys, rdyboost.sys, tdica.sys, rdbss.sys, usbstor.sys, usbport.sys, iusb3xhc.sys, usbhub.sys, picadm.sys, igdkmd64.sys. These can cause your computer to crash and the BAD_POOL_CALLER error comes up. If you can know the file name responsible for the issue, find an application linked to it. Thus you can resolve the error completely.
Flash drive
Bad pool caller error can rise up with inserting of USB flash drive to the computer also. If the drive is the faulty and defective chipset, the issue arises.
Sudden shutdown and startup
Users repeatedly complain that the error occurs usually right on the startup. Eventually, it can make your computer to stick in a loop. This is indeed a big problem and to some extent, your computer will not boot at all. Sudden shut down also mess up the installation files creating the issue.
Besides, page fault in nonpaged area can boost to BAD_POOL_CALLER also.
BAD_POOL_CALLER Windows 10 Workarounds
Experts have found out different ways to resolve this error and we will discuss some best resolution from these. Let's start straightaway.
Workaround-1: Run CHKDSK tool
While encountering BAD_POOL_CALLER Windows 10 error there is a good possibility of a flaw in hard disk. So the easiest way to fix this issue is to  Run CHKDSK tool. Follow the method and check your hard disk –
Step-1: Launch elevated command prompt getting assistance from here, type chkdsk /f and gently strike on Enter. Wait for the execution process to complete thereafter check the situation after restarting your PC.
Workaround-2: Check for latest Update Windows 10
We have already come to know that the bad pool caller error is caused by hardware issues frequently. Moreover, If the software and hardware are not fully compatible with each other on your Windows 10 operated computer, this sort of problem may arise. In this case, the best fix is to your system up-to-date with patches sent by Microsoft.
You can check for Windows updates manually following the below instructions:
Step-1: Press "Windows Key + I" shortcut key and open the Settings App then choose the option Update & security.
Step-2: Perform a click on Check for updates button in the right section.
After you press this button, Windows will start checking for available updates When the updates are installed, you can check to see if the problem still exists. In the case it persists, you can proceed forward with next way to resolve BAD_POOL_CALLER Windows 10 error.
Workaround-3: Perform a Driver update
Like the incompatible hardware, incompatible as well as outdated drivers can also cause BSOD errors like BAD_POOL_CALLER. This is the reason, experts always advise to keep your drivers up to date.
In order to update drivers, you can visit manufacturer's website of your hardware. Download the latest updates from there based on the compatibility of your computer. This process will definitely a time consuming process.
We have got some complains too telling that some of the users could resolve the BAD_POOL_CALLER issue by updating Netgear drivers while RAID Storage Controller drivers caused to reappear again. So keep it in mind that you need to follow the procedure.
Many users have informed that merely updating Display adapter works like a charm so don't forget to update yours. But remember that while proceeding the task choose the option Browse my computer for driver software. Locate and select the Display adapter driver and give it time to accomplish the update.
Workaround-4: Removal of Antivirus or Firewall
Bad Pool Caller errors often caused by an anti-virus or firewall installed on your computer and the workaround is its removal. You might be wondering that after the abolishment, your computer would be unsafe. But there is nothing to worry about as Windows 10 comes with a default antivirus called Windows Defender. It will protect you always as a built-in program.
Based on the complaints of the users, Antivirus like Malwarebytes, McAfee, Trend, ESET and Comodo Firewall are responsible for the occurrence of this error. So you need to remove all of these anti-viruses as well as any third party software. While removing them, bear in mind that only uninstalling this software will not work rather you need to remove them completely. Reboot your system and check if BAD_POOL_CALLER Windows 10 got settled down.
Workaround-5:  Un-install of troublesome applications
Errors like BAD_POOL_CALLER Windows 10 rises up if you use some nagging third party applications and tools. To avoid these errors, you need to uninstall these software with no delay. If you have already installed some of them, rebound them to earlier versions. Hotspot Shield is an example of such application responsible for bad pool caller error. So remove this software immediately if you have on your computer.
Workaround-6: Check the modem
Bad pool caller error is found to be prevailing if the users use Jio, Airtel or Huawei modem as set it to work as a Network Adaptor. A simple solution is to change the connection set up from NDIS to RAS in order to resolve the issue.
Workaround-7: Check of RAM
We have talked about the hardware problem previously as it may throw the error. Many of the users expressed their satisfaction after fixing the issue by replacing the culprit apparatus only.
It is an easy task to detect RAM issue. You can test the RAM modules one by one to sort out the faulty one. Additionally, use of tools like MemTest86+ can also help you a lot in this regard by scanning it.
We have to mention that almost any hardware component can cause this error to occur and if you installed any new one not long ago be sure that you remove it or substitute it since it might not be completely compatible with your computer.
A problem can occur with other hardware components rather than RAM only. So if you have installed a new hardware recently, you should replace it if you encounter this error.
Conclusion
BAD_POOL_CALLER Windows 10 is an annoying error and definitively the noise is intolerable and the faired blue screen is frightening to the users.  Additionally, it makes further problems too. The solutions discussed here are the best possible effective and will obviously help you to resolve the issue. Read this properly and apply to get rid of this nagging error.
Utility tools to solve this BSOD:
Repair any Windows problems such as Blue/Black Screen, DLL, Exe, application, Regisrty error and quickly recover system from issues using
Reimage
.