Job Search using Windows 8 app succors to avoid wandering on different sites abundant of which are only time consuming. Here, we are going to talk about best 5 job search windows 8 apps which will help you in knowing about job openings in an easier way. These are very good apps for all people who are willing either to find a new job or change their previous job to get more perks. All of these apps are authentic so there is no need of worrisome of searching its truth. In general, people search here and there for job openings and if they found one, they just want it to be realistic. This is why Windows 8 has brought upon this so that people won't need to dig it out further. There are variety of jobs mentioned in each app. Again, applying through these apps would be much easier as you already have a Microsoft account so you don't need to sign up for new websites which usually produces problems.
Recommended: Look Your Way Windows 8 App – A Simple and Enjoyable Game
These apps are lightweight and it would run smoothly on your Windows 8 devices. Okay, let's start knowing about them in a brief description.
1. Job Search App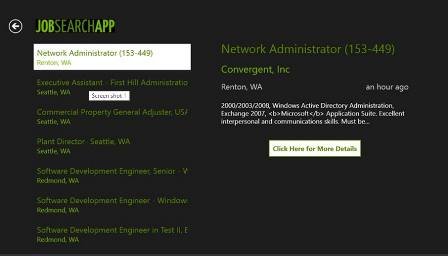 This is one of the most famous Job Search Windows 8 Apps as this is collaborating with 3 job sites thus providing you the best job search possible on the net. This looks out job on your behalf or around your locality according to your desire. If you wish, you can also opt for jobs very far from your own area. Launching this app will ask you some of the basic entries like your job query, name, location, pin code, etc. Just feed it the initials and necessary blanks and click on the search button. Once, you are done with filling the information, It will search a huge number of jobs for you just in a few clicks. You can see jobs at the left side of the screen, and upon clicking on any one of those jobs, you will be presented with their description on the right side of the screen. If you like any of these job openings, just click on the "Click Here" option in the description area and it will take you to the job from where it has been originated. Now, you can view an even more detailed version of the job description. This is how this app works.
Features
Helps in searching out for dozens of jobs in collaboration with 3 job search sites.
Very Simple and easy to use and navigate.
Latest search done by you is saved for future purposes.
2. Jobs8
Jobs8 is another Job Search Windows 8 Apps. Launching this app will ask for your locations. Location is just asked to search out jobs near you. If you wish to do outside your place, you can do it. For this, all you have to do is to manually feed the location where you want to do the job. Once the location is fixed by you, it will search out a large number of job openings near the chosen area. Job results would be shown on the left side of the screen and its description on the right side once you opt for any of it. A link would also appear at the bottom of the description page, from where you can access its original site to look out for further contacts.
Features
Feed Location or it will find you if you allow it.
One of the Best Job Search Program for Windows 8.
3. JobServe Search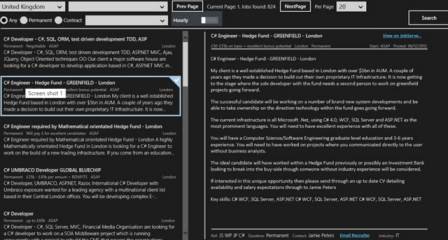 JObServe Search is again easy to Job Search Windows 8 Apps. This app can easily relate jobs search according to the profession you are looking for. Just choose the country from the dropbox menu at the top and search out for any job type you want here on the search box which is present at the top of the screen. If you wish to get a job in your locality, you can further refine the job search more doing it by locality search. Just similar to the above two cases, job openings would appear on the left side and its description would appear in the right side. A link would be there on the right side at the bottom from where you can access its original link so that you can apply for the respective jobs easily. Contacts are also specified on the original website.
4. getHired
getHired is a Job Search Windows 8 Apps that helps you in searching for jobs near your area. This Job App gives you the facility of refined search according to the nation, state, city, job description as well as locality which is really a very good thing. All you have to do here is to fill your initials and the location where you are willing to search out for job openings and then press enter on the search box, you will find a large number of Job openings floating on your page. Unlike the previously mentioned job openings, here job would appear in the form of tiles properly managed according to their date of publishing. It helps a lot as you easily discard the old news. If you like any of the shown Job openings, click on that and read out the complete description of that job. If Your requirements are fulfilled and you are eligible for this, go for the original website. The nice thing about this job search app is that it is linked to various Job sites thus providing you the best results.
5. Jobs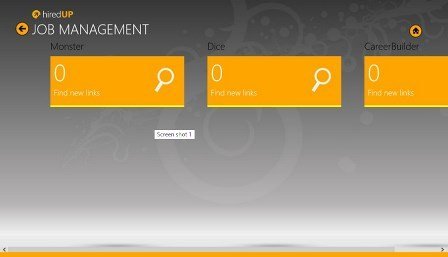 Jobs is one of the easiest apps to search for numerous jobs. This app works once you fed your job description in the search box. This matches the Jobs which are present here on its memory with the description of the jobs resting here on this site. If they match up to a certain point, they are shown on the screen otherwise you would be shown a message " No pages Found". This is fairly a very simple app based on matching things. The matched jobs are shown in the form of a tiles interface which can be clicked upon to see the description in a full screen layout. Here, You don't need to fed any location as it searches out itself which might be a good thing. It supports snapped view which is also a very good thing. Rest things are quite clear, isn't it.
Conclusion
This is it. Start searching out new jobs for yourself, friends, or relatives. These job search apps are trustworthy as well as interesting. Just try this out and if you have any queries regarding any of the above-mentioned apps, do ask us in the comment box.