Today Google has rolled out updates for Gmail App for iOS. After this update, Gmail will work faster on iOS Devices.  The Gmail app for iOS will support background app refresh. This background app refresh will help Gmail in running faster and you will not have to wait for your email loading. Actually, after Gmail app for iOS support for background app refresh finishes irritating pauses when you launch your  Gmail. Messages in Gmail will be pre-fetched and synced. But for getting email faster on iOS you will have to turn on background app refresh on iOS Device.
Recommended: Mailbox app for iPhone to fix Gmail problems
How to Turn on Background App Refresh in iOS
1. Switch on your iOS Device. Launch the Setting app.
2. Go to General. Tap on Background App Refresh.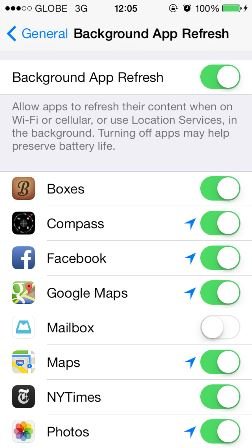 Now slide the toggles of the app you want to turn on. Here, turn on the toggle of Gmail (Mailbox). But you should remember that running background app refresh for more apps will consume more battery.
Gmail is the most used mail service on the web. For the majority of works, people use email. Mailbox running at a slow pace often produces irksome.
With this update, Gmail app supports log in across Google iOS App, Chrome, Google Drive, Google Map and YouTube as well. Signing in any of these automatically leads to Sign in all services. Obviously, you escape from retrieving two steps verification codes time and again separately to prove yourself.