It was the common practice in the past when the people used to wake up in the morning; they used to pray to the God or touch their parent's feet. But, gone are those olden days. Today, Facebook has become the virtual God. People are so obsessed with it that, they wake up in the morning to check out how many likes their photos have got, how many of their friend requests have been accepted or how many friend requests have they got and what are the notifications. This post of mine is dedicated to all those FB fans. There are numerous notifications which appear every day. Many of them may be unimportant such as those coming from the spam group, apps /games requests which are not required. Browsing through all notifications in this busy world might be a humongous task and sometimes clicking on certain notifications might lead to the opening of the new spam websites which usually steal the data. But, Facebook is creating new security options everyday for us to stay away from such notifications. Let us explore.
There are various fields of notifications which can be clicked and edited to minimize or narrow the notifications received.
click on the small inverted triangle icon which opens a pop out as:
the notifications page appears.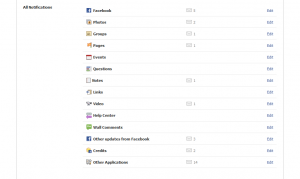 any of the notification can be clicked which opens a list of settings which can be ticked.
after a satisfactory change of settings, click on Save changes.
for example:
Event notifications
There might be many events every day. As we keep adding new groups every day, any group can invite us to any event. It's okay if we go or ignore but if we are like the type who hate social gatherings, receiving such notifications would eventually anger us.
Click on the account settings
Click on notification settings
Click on events
The various fields appear which can be selected.
After the selected fields are clicked, click on the button Save changes
Now every morning would be a pleasant one with notifications which would bring smile to a face rather than irritation.