You can bring back menu bar on Firefox through F10 or Alt button on Keyboard. Besides this, the menu bar becomes visible again through ribbon beside Tabs, Open Menu, customize, etc.
By default Firefox browser does not show menu bar on its top.  When you launch the browser you might be shocked when seeing the missing Menu bar on Firefox. You would know menu bar in Firefox contains File, Edit, View, History, Bookmarks, Tools and help menus under which several commands exist which make the browser more user-friendly for you. You can add menu bar to Firefox browser very simply. But here you will find 5 tips to bring back menus on your Firefox.
Recommended: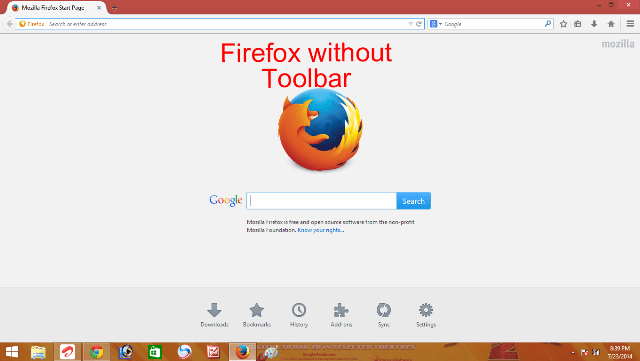 How to Bring Back Menu Bar on Firefox
Easiest ways
Click F10 on your keyboard to bring menu bar back on Firefox.
Click on Alt key on your Keyboard to show menu bar and repeat the same to hide.
Directly from Ribbon
Launch Firefox.
Right click on Tab Ribbon on the top of the browser.
Click on Menu bar.
If you want to add bookmark Toolbar you can add it by selecting the same.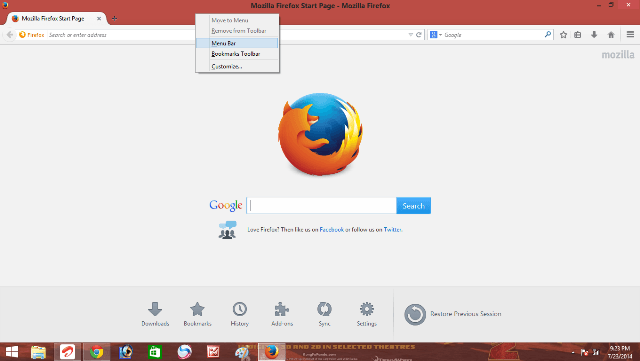 From Open Menu
Click on the Open menu icon on the extreme upper right corner of Firefox.
A drop down pop up in the downward direction. Click on Customize button.
 Clicking on customize launches a window for Firefox customization on the left side. In the bottom area, you can see Title bar to show the title of the page you open in the browser. Besides this a button Show/Hide Toolbars is present. Click on this. In the drop down Click on Menu bar to bring back the menus. Clicking on Bookmarks Toolbar will bring bookmark bar. Click on Exit Customize to come out.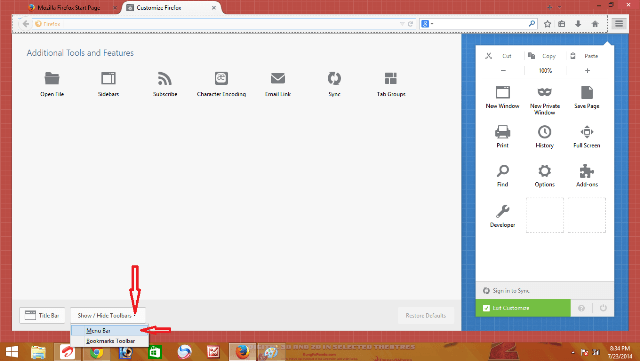 Indirectly Through Ribbon
When you right-click on the Tab Ribbon on of the lowest option is Customize…
Click on it and follow the step written in Open Menu.