Social Media has become a part and parcel of each and everyone in modern days. However, using Facebook and Twitter may distract us from our main work and can create several other problems like if we are doing the work as well as chatting with someone on Facebook or blogging on Twitter, it actually affects our work. Again, it is very frustrating to switch over different tabs. We generally use Mailbox and some services like Mailstream to overcome these problems.
Powerinbox is an extension which we can use in many browser like: Chrome, Firefox,  internet explorer and many more so that we can keep an eye on our social media while doing our work. This powerinbox is attached to the Gmail, Hotmail,Yahoo etc and allows you to add apps for Facebook, Twitter etc.
This Powerinbox actually fits as a sidebar in your email account creating several icons for different social media website. It is located at the top of your email account  as shown in the picture below.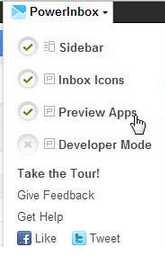 How to add apps to sidebar
Once you are able to enable the sidebar option in your Powerinbox, you can add app to this just by authorizing your account to this service by opening your account here at the place provided by it. Thus, you can continue to add more and more app to this sidebar. Once you are done with the adding app to this sidebar, you can double-click on this to open it. The interface then looks like the picture shown below:
In the above picture, you can minimize sidebar to see it as column of buttons and icons and can maximize it to see different feeds, notification and other things as well from the app selected. You can use (+) icon to add more apps to it. As you have already added your account to this application, you can read, select and share your files using this sidebar of PowerInbox.  If you are willing to get the notification of Email inbox, messages or other things of your Social Media account, you have to enable this service using "Inbox Icons" option from the Powerinbox menu.
As we already know that these Social Media wastes a lot of our time while working, using Powerinbox proves to be very fruitful but there is one problem and that one is this feature has come only for famous Social Media like: Facebook  Twitter. If you were using some other web-sites, you have to wait for some days so that their extension would also come in the market.
How to get this app
You can get this app by visiting http://powerinbox.com/. Hope you have enjoyed this.