After purchasing a BlackBerry 10 the first priority is to install required app from BlackBerry world. Before installing any apps first time to BlackBerry 10, you need to accept or decline the app access permission with full information on your device. For instance, the foursquare app requires authorization to use your location to track places while other apps may ask for authorization to get access to your personal images, music or videos.
Refusing app permission on Blackberry 10 is a good method to secure your personal data. Suppose you decline an app permission to use your location or contact your photos by mistake then how to change app permissions or edit the app permission on BlackBerry 10.
Step 1
Start the Settings  option on your BlackBerry 10 and tap on Security and Privacy option that is found in the center of the option list.
Next, tap on the Application Permissions option.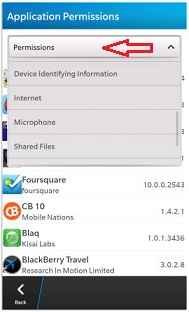 Step 2
Now you will get a screen of Permission Details option. Here, you can see permissions for a particular app by tapping on it, or you can sort out the list of apps by choosing permission with the drop-down at the top side.
Step 3
As soon as you select any app from the list, you are capable to enable or disable any of the requested permissions for the particular app.
To do so, simply move the switch button to on or off position to do any essential changes.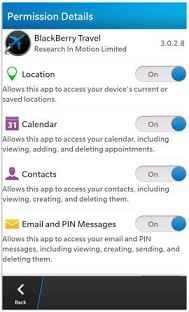 Conclusion
It is a nice way to view the control level of app permission settings by BlackBerry support team. It helps you to find which apps are using your personal information or location on the Blackberry 10 device.