Windows 7 Start Orb Changer is a very nice application that is used to change the Start button of Windows 7 machine. It is a free application and it can be done in a very few seconds. The interface of this app is very fantastic allowing you to choose between the various settings. You can easily select a new start button as soon as this application runs in your system. This app needs not to run in the background while the start button is changed. The changed start button would not change when you even uninstall this app from your computer. This is a very important thing of this app where you can get the advantage even not having this app in your system.
The interface of this app is very neat and clean. Designers have developed this app in such a way that most of the things of this app is self- explanatory. A screenshot of its interface is shown below: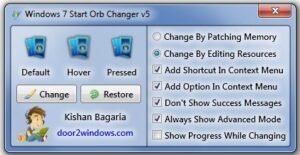 Change the Start Button in Windows 7 Easily using Start Orb Changer
How to use this App 
Before changing the start button of your Windows 7 machine, close all the other applications running on your computer. If you have opened the guest account, just logged off and login as the Administrator. Run this app on your Windows 7 machine, and click on the change option. After then select the start orb and then open it. Doing this, windows explorer will restart. When, your system restarts, you will see a new Start Button on your screen. There is always an option of Restore using which you can restore the original Start button of your system.
If you wish to uninstall this app, you can do it. However, you should note that even when you uninstall this app, it will not change the Start button. If you want to see some of the changes or anything, you can just right click and you will see a Start Orb in the context menu at the last. You can also see a new option of "Set as Start Orb" whenever you right click on any PNG and BMP files. you can click on the below link if you are willing to create your own Start Orb.
Key Features of this App
It allows you to change your start button in four different ways: Context menu, Drag and Drop, Change Button, and Command Line.
It works for both type of system bits i.e. 32 bit and 64 bit.
There are two methods here in this app that are used to change the Orb. a. Resource editing: This method is used to change the resource of windows directory explorer. b. Memory Patching: used to change the start orb in memory. There is no any problem of UAC prompts loss in this case.
Free of Cost and very simple and easy to use.
 Desktop context menu could also be integrated using this app.
Smart collections of the new start button.
It consumes very little space in your system memory.
Conclusion
Start Orb Changer is really a fine application and is a must try app. It gives you a new feeling of start button. All we know that a little change in our usual life is how much appreciable. Here, changing Start Button of your windows 7 machine gives you a new kind of relief in your mind. You can have this app downloaded to your machine by going to the link provided below: