As it appears by name, this app is related lock screen function with voice command for Android devices. This incredible application has been launched recently. this is a very fantastic application which offers the facility to lock & unlock lock screen by voice in any Android device. You need not use finger for locking or unlocking the screen. You will enjoy locking and unlocking your Android device after using this app. You have to set a voice password, this will be use to lock and unlock the device.
It has another option for locking and unlocking lock screen  i.e. 'Soundwave Touch'. One touch of this button will lock or unlock the screen. Besides these, you will get the facility of a customizing appearance of time, date and power indicator. You can customize these indicators with vivid color, size and style. It will enhance the look of your device screen, and it looks different.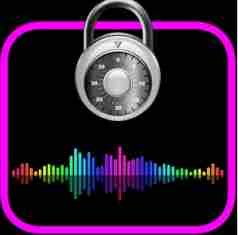 How to use the Voice Lock Screen
After downloading and installing it in your device, an icon will appear on your screen. Open this icon and you see the setting dialog box in it. First, you see the 'set voice password' option. Tap the button and set a voice password. Below this, you get an option of 'unlock on sound wave touch' option. You have the options to enable and disable it. If it will be enabled then the device will unlock or lock by touching the sound wave icon which will appear in the center of the screen while using the app. In this setting menu, you will get the option of customizing date, time, and power indicators. Complete these setting and when you want to unlock the screen it will ask for voice password, say your password and your device will be unlock.
Feature of Voice Lock Screen
Voice unlocking system to lock and unlock the

device.

It has finger touch unlocking system.

You can customize time indicator on your screen.

You can customize date indicator on your screen.

You can customize power indicator on your indicator.

Other important information about Voice Lock Screen

The size of the app is 1.88 MB.

This app is free.
This app is compatible with Android 2.3.3 and above. One more thing, it requires internet connection to facilitate in Android version 2.3.3 and above but if you have a jelly bean and above then you need not to the internet connection to use it.
Download: Voice Lock Screen