Presently the battery of Android phone or tablet has become the main subject in the market. Various manufacturer of Android devices like HTC, Samsung, Motorola, LG doesn't offer batteries having long life. Usually it lapses in a single day. Although, a few latest Android phones of Samsung S3 or HTC One X are providing longer battery backup at this time.
It is really an essential act to check the remaining battery life, especially when you have decided to start root or firmware update procedure without travel charger. Checking battery level will save your Android device from any type of harm issue like dead or damage due to less battery power.
It is absolutely a simple method to know the remaining or exact battery status in all Android versions. How ?
Follow the tips underneath:
First tips
At first, launch Settings screen from the main screen.
Scroll down until you will locate About Phone option at the bottom panel and tap on it.
From the next screen, tap on Status option at the top panel.
Then tap on Battery Level option in the next screen.
Now you will get your remaining battery percentage at the top left in the next screen.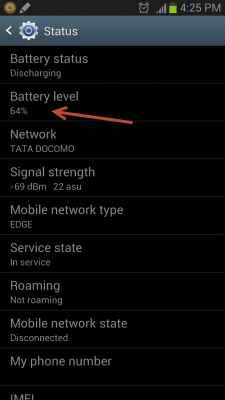 Second tips
Dial *#*#4636#*#* and you will have four options on the Android device screen. It will display 4 allied options like battery temperature, time since boot and battery health on the screen.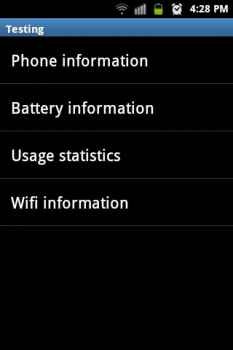 Here tap on Battery information option.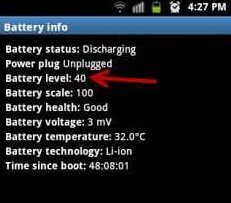 Remark
You can also install useful apps for example Battery Widget, Battery Solo Widget or any other related apps to check exact battery percentage on your Android device.