How to Check if Your Hard Disk Drive is Bad – Sudden, if your computer or laptop works slowly, corrupts or misses data, creates extraordinary noises and display fatal errors on the desktop screen. You become alert. What is the cause behind it you think?  Then it is time to know that these troubles indicate that hard disk drive of your PC or Laptop is about to die. Actually, such troubles are created due to rampant bad sectors in the hard disk. If your hard disk is still under warranty then you should claim at concerned service centers immediately for the replacement.
But, prominent hard disk manufacturers like Seagate, Western Digital, Samsung, Maxtor recommend running a diagnostic tool on your hard disk drive firstly. The diagnostic tool is used to scan all errors from the hard disk drive as well as provides a primary solution to fix it. Besides it, windows also advise users to run scan disk tool time to time in the windows system. In this page, I am going to give a link to every hard disk manufacturer's diagnostic software.
How to Check if Your Computer's Hard Disk Drive is Bad
Seagate, Samsung, Quantum, Maxtor
Seagate has captured half of the hard disk industry at this time. Other hard disk manufacturers like Samsung, Maxtor, and Quantum has tied up with Seagate support team to use single diagnosing software. It is known SeaTools. It can be downloaded from the official Seagate support site.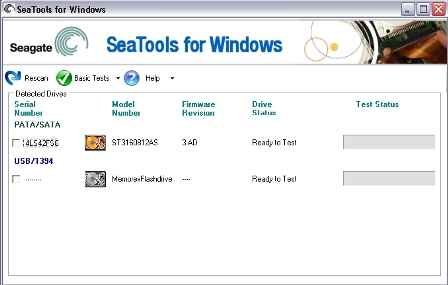 Download SeaTools from official Seagate support site
 Hitachi
For Hitachi manufactured hard disk, you may download the official diagnostic tool from Hitachi support website.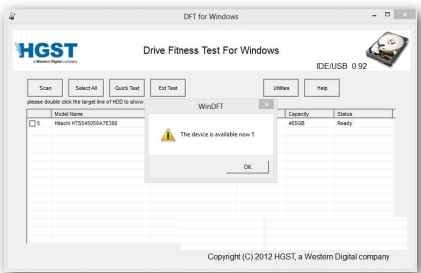 Toshiba and Fujitsu
The Fujitsu hard disk development team has made a business agreement with Toshiba. As a result, both manufacturers have provided same hard disk diagnostic software to use it to either Fujitsu or Toshiba.
Download from official support page
Western Digital
Presently, Western Digital is well-known to produce hard disk for laptop, desktop PC. It uses Data Lifeguard Diagnostic software to scan all errors of its hard disk.