A new free utility software ALARM is useful while you are leaving your laptop at office or public places. It helps you in saving your laptop very interestingly from being stolen or theft, but the condition is that the laptop should be plugged in with power when it is left. Actually, the laptop plays a loud warning noise from speakers when anyone unplugs your laptop from AC power charger.  This loud sound continues until AC power is not connected again.
Certainly, ALARM is simple and the best protection tool to avoid laptop from being theft. For example – You have left your laptop alone for a minute and somebody has unplugged your laptop and is attempting to make a run, it starts crying, and the laptop and probably thief also would be caught.
Tips for How to Use ALARM tool on Laptop?
At first, you need to download ALARM utility tool to your laptop.
During the installation process, select all options to install.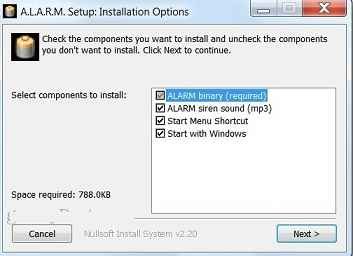 Once it is installed successfully on your laptop, run ALARM tool from the system tray of desktop taskbar panel.
Then press left click on ALARM tool icon in the system tray to launch properties. Here, don't right-click on ALARM icon otherwise it will be closed.
The main interface of ALARM tool looks simple. You can set your personal sound like MP3, WAV files for raising warning sound, or leave the default sound.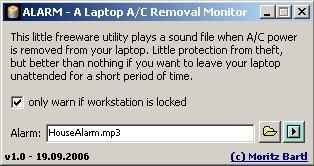 In addition, ALARM tool facilitates to work only while your laptop is locked, so it would not problem you if you are surfing and like to unplug the laptop yourself.