Google Map is definitely an excellent tool to find accurate direction and location of particular spot through Internet. Although similar to desktop computers, Google Map is not accessed on mobile devices comfortably. Now two top rated Internet browsers like Mozilla FireFox and Google Chrome have launched latest Google Maps tool. It is known as Quick Maps. A Chrome extension for Google Chrome and Firefox add-on for Mozilla FireFox has developed for Quick Maps. It helps you to view the map of any spot within a webpage quickly.
Both browser extensions also have a search panel included in a pop-up window if you like to change current address. You have noticed that your current address does not show name of country, state, city in map search result. It happens due to matching of similar name some places. In circumstances, a handy solution has come with Quick Maps. It supports a spot finding feature that will identify where you are exploring from and modify the search results to equivalent consequently.
Chrome, Firefox Quick Maps to View Address on Website in Google Map
The Quick Maps launches pop up window in same tab and permits you to choose options to view spots in different ways as around or zoom in/out.
Both browser extension will either automatically discover your address on a webpage.  You can manually launch pop up window by choosing address and putting it into the extension through pressing right-click on the context menu.
As soon as you run Quick Maps, choose an address on any website, right-click on it and choose Search with Quick Maps option from the right context menu panel.  Then a pop-up dialog box will appear with the spot identified.
Now click on the small close button at the top right corner to exit from the pop-up window.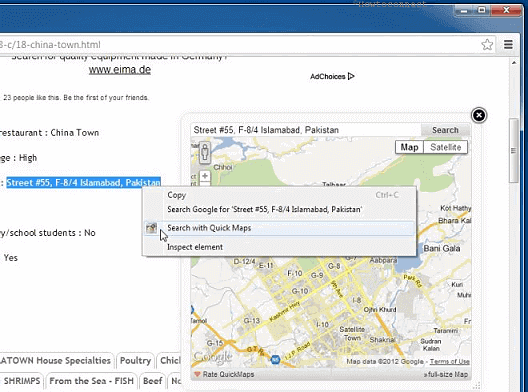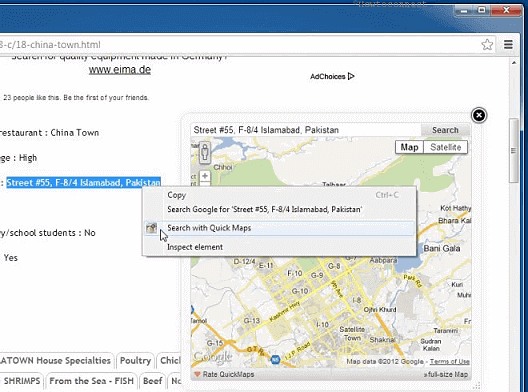 Download Quick Maps for Google Chrome
Download Quick Maps for Mozilla FireFox