CM Launcher android app is a free tool to launch themes for your devices. It is designed in such a way that it protects your mobile from malware attack along with provides 100% boost to your system. The best thing about this app is that it occupies just 1 MB space which is very less; however it does pretty fantastic work and beats big launching apps like Nova Launcher, APUS, Etheme Launcher etc.
Note: – This app has been designed by Clean Master which you all know is a very famous app for its working, removing junk files and boosting memory all over the world.
It also provides a separate plugin for themes which you can search by the name Simple Life CM launcher Theme.
You can have both CM Launcher and its theme directly from Google Play Store.
How to use CM Launcher Android App
Using CM Launcher Android App is pretty simple. All you have to do is to install this app on your smartphone and then it will take care of itself. It will order all different apps present on to your OS and put them into smart folders just like the below-shown screenshot.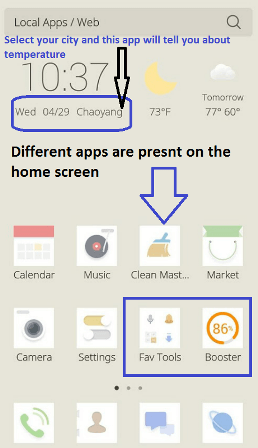 Here you can see some of the most used apps are present on the main screen while the rest are put into smart folders. Calendar, Music, CM, Camera, and settings are some of the apps which one uses more often, hence all these are put on the main screen. However, you can always put them back in some folder or bring out some icon present in some folder to the main screen. It is totally up to you.
At the top of its main screen, you can see a city name "Chaoyang". You can change this city name to your own city by just tapping right on its name. Once changed, it will show you the temperature and climate prediction of your living city.
There is a Booster option present on the main screen using which can boost up the speed of your phone and phone storage and performance.
Once you click on Fav Tools, a new screen will appear on your Phone which is shown below: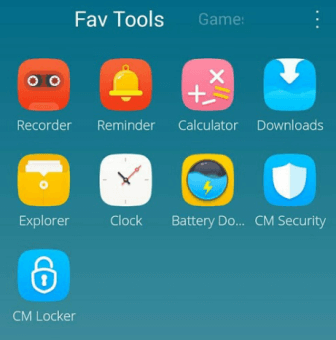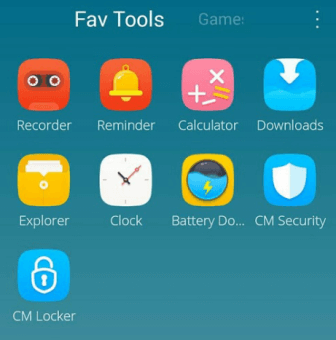 See, your entire favorites are present right inside this folder. Slide left and right to open all other folders present on your system. Here the basic color of the screenshot is different from the above one, this is all because I have opted different theme here.
Note: You can always rename, hide, and delete any folder and move items from one folder to another or on to the main screen.
How to Use Simple Life CM launcher Theme
This is a free theme specially designed for CM launcher users i.e. you must be having CM launcher app to use the Themes. It includes dozens of unified icons and artistic wallpapers. All you have to do is to select any theme among them and then select Apply. The moment you click on Apply, this will personalize your phone with the selected theme.
You can look out for updates related to theme just by going to CM launcher and then go to "Theme à Mine". Here, you can see dozens of themes and if found someone interesting just apply that theme to your phone. It's pretty easy.
Key Features of CM Launcher Android App:
This doesn't take much space of your storage device as this is of Just 1 MB
Despite being the most lightweight app, it beats app like APUS, Go Launcher etc.
Increases the startup speed of your mobile to a very large extent
Apps take much less time to load and are organized itself into smart folders
Incorporate the best antivirus which protects your personal info and app data along with prevent viruses as well as malware,
Conclusion
CM Launcher Android App is a nice application which increases the startup speed and phone performance by 100%. This is definitely a worth having app. Try this app and let us know your views on this app in the comment box.