If you want to transfer Files from Smartphone to PC of multiple formats Shareit, a free Android app, is the perfect option which can admit. Using it you can also share files from Smartphone to PC as well. There are other apps also like Xender, Appcrawlr etc. which allow the transfer of any files from one Smartphone to other. However, when it is from PC to Smartphone or vice versa there are fewer apps. Shareit is one of them and it allows flash transfer of files. You don't have to worry about Memory Card Reader and you don't have to carry them every time just for the sake of transfer of big files.
Shareit makes the transfer of big files like Movies, documentaries etc. in few minutes. It provides you almost the same speed as that of a memory card reader. The interface of this app is pretty simple and there is no such tedious task involved in transferring data. All you have to do is to Send and Receive.
How to transfer Files from Smartphone to PC using Shareit
At first, install this app onto your system as well as on your Smartphone. You can have the Smartphone file from Google Play Store. For Pc, you have to go to its official website and download Shareit Software for your PC. Once you have installed this app at both places, open it on both i.e. on your Smartphone and your PC.
Note: – You can transfer Files from Smartphone to PC or its reverse in either way. In this article, we will tell you on how to transfer files from your Smartphone to PC. You can do the same in reverse order to transfer files from PC to your phone.
Go to Shareit App on your Smartphone. Its interface will look just like the below-shown screenshot.
At the top, it provides information about your Username, and the data you have transferred. It has two options. They are Send and Receive. Since we are moving files from Mobile to PC, click on Receive option on PC and Send option on Mobile. Clicking on Send option will open its interface which is shown below:
Here you have the options to select photos, videos, Music etc. to send. Go folder by folder and select those items which you want to send. Each selected item will come to the bottom and the number of selected items will be shown in "Selected". Click on Next to move to the further step. It will open a new screen where you have to opt for a device to which you want to send these selected files.
Here, in the radar you can see a PC named "ARYAN-PC". Select this PC by tapping on its icon and files will be start moving from your Smartphone to the Device Selected. Once transferring of files is completed, it will ask whether you want to transfer/share more or end it. Do whatever you like to do. Once, you are done Click on Finish to come out of the app.
The transferred Files from Smartphone to PC  will also be seen on the interface of PC. You can see all the files transferred to the PC from Smartphone in the screenshot shown below: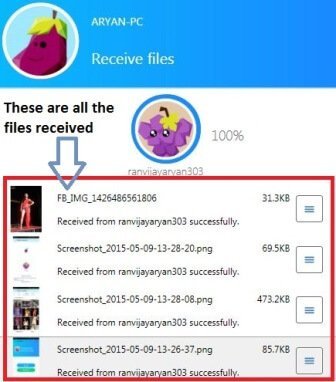 You can do the transfer from your PC back into your Smartphone by following the same procedure just by opting Send option from the PC and receive an option on Android.
Conclusion
To transfer Files from Smartphone to PC Shareit android app is a useful tool for all the users. There is no need of wire, memory card reader etc. which makes it a very suitable app for all users. Start using this app and tell us if you want to know more about such apps in the comment box.