Coca-Cola Freestyle is a Windows 8 food and dining app which assists you to find the neighboring location of Coca-Cola Freestyle Fountain. You can scan innumerable choices through this Windows 8 app and take the help of the location finder and scan the areas that provide you more than 100 options for you. The application offers you to see all the flavors available in the fountain.
The appealing characteristic of the app is that it allows you to explore the best deals from your favorite restaurants, movie theatres and much more. You can even make mixes of up to three favorite Freestyle flavors. Apart from the mixes, you can save the list of your favorites and share it with your friends on Facebook. The funny thing about the app is that once you find your Freestyle area, you can earn badges and prizes.
Recommended:
Pizza Hut Windows 8 App – Order Pizza While Working on PC
Recipe Keeper Windows 8 App – Organize and Store your Recipes
How to use Coca-Cola Freestyle Windows 8 App
Install the app on your Windows 8 computer from the link provided below or own it from the food & dining category of the Windows Store.
Enter the area of your search and get the Freestyle locations for yourself.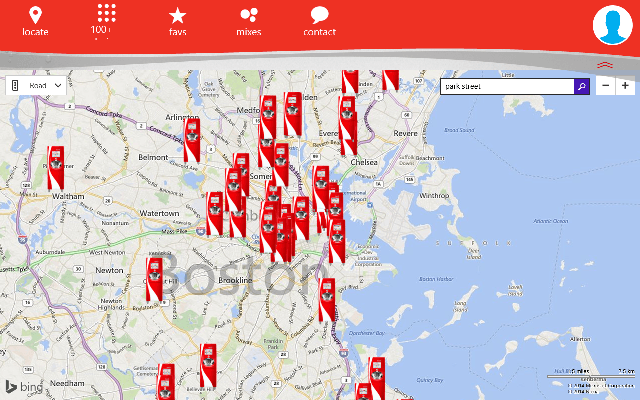 You will get more than 100 flavor options for you at your fingertips.
To add the brand to your favorite list, select the brand and drag it to the favorite button.
You can use up to 3 brands of your favorites and make a mix of them for your own personal blend.
After deciding the drinks for the mixer, you can decide how much of each you want in your new drink.
You can even provide a name for your new drink.
Click "Save" to save your mixer.
Share them with your family and friends through Facebook.

Coca Freestyle Windows 8 App Design
The app is very user-friendly. Different flavors are displayed very beautifully. You can even easily share your mixes with your friends. The interface of the app is very smooth in look as well as in use.
Coca-Cola Freestyle App Features
The app is free of cost.
Find the nearest Coca-Cola Freestyle.
Explore the mixes from the Freestyle.
Select your favorites.
Save your favorites.
Share your mixes with family and friends.
Conclusion
Your desire for exploring different flavors, the areas, the mixes of your favorite flavors, and sharing them with your friends is over now. You can enjoy all these with few clicks only. The app is very useful when you are out and don't know the exact locations of the Freestyle. So download the app and install it on your computer and enjoy your drink.