Colorise, is a very interesting Windows 8 app for small kids. This app is available at Windows 8 Store for completely free. This special app has been designed keeping in mind the proper way to provide necessary and fun things to kids so that they could understand each and every thing at ease. By such a lovely app, they won't need to memorize alphabets but they learn it all just by playing with them. This app lets them learn about alphabets and how to write them during playing with them. The interface of Colorise app is designed in a very fancy way along with making them learn how to recognize different colors. This is something learned slowly but remains at the instinct level for the whole life.
Below shown is a screenshot where you can notice that the whole app has been divided into three parts. They are Paint, Draw to Learn and Draw to write. The first one is just a simple thing making one understand the basics of painting or drawing. The second one is the most important as it makes one learn about alphabets while the third one is a combination of the above two steps. It tests whatever one has understood up till now.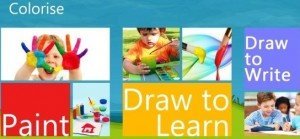 A link has been provided at the last of this article from where you can get access to Colorise app.
How to use and play with Colorise app
Once you have installed Colorise app on your windows machine, above shown screenshot will appear on your screen. This app is aimed at helping small kids in learning alphabets in a very cozy environment. While growing up, they will learn about the alphabets in a very relaxing way just by playing around with them. It has a very simple interface however mixed with a lot of colors as it suits children and they like it. In one line this is an Easy but Fast to Use App. The screens here on Colorise app are kept very less. Total numbers of screen are basically three as shown in the above shown screenshot.
Paint
Draw to learn
Draw to Write
Navigating between the screen is very easy. Simply click on the desired option in the main screen to do the desired, and click on Back button to get back to the main screen.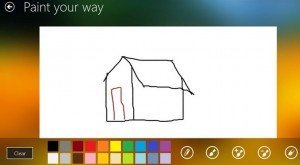 The above-shown screenshot is a picture drawn by a small kid in the first step. Painting is something that all the kids love to do as it is with colors and they love colors. The stokes of this app are kept very clean as well as very Sharp. The color palate is located at the below side of its drawing screen. All one has to do is select the exact color which you want to use in the drawing so that color of the brush changes. Once it is done, simply click on the button with brush and plus/minus icon to change brush size. Now draw whatever you want to draw. Once you feel that something went wrong in the picture, you can always clean it up either the wrong part or the whole part using the eraser. Just click on the Clear button to do so i.e. to empty the whole screen.
All the features are superb. However, there is one thing which you might not like and that is this app doesn't provide the option of saving the pictures. All you have to do is to draw a picture and then clean it up which is really an embarrassment. However, you can save the made picture by taking a screenshot which is no doubt a good thing. This app along with its drawing feature also provides you a good Windows 8 learning app. The other two parts of the app, Draw to Learn and Draw to Write, can help the toddlers learn about alphabets before they start going to kindergarten.
Draw to Learn: In this section, kids learn how to write alphabets. They learn about both i.e. Capital as well as Small alphabets. Toddlers can just simply view them and try to write the alphabet on the canvas on right. And if they like, they can change the color of brush as well.
 Draw to Write: This section is there to test whatever they have learned. They will have to click on the alphabet on the left side and write the identical alphabet on the canvas, then hit on check button. A Well Done message pop up if they write it correctly otherwise it displays "Wrong Message"
Key Features of Colorise App
A completely free app
Good interface with adorable graphics
Simple, easy and very easy to learn and use
Draw different things freely
Helps toddlers a lot in learning alphabets and recognizing colors
Also tests their understanding about different learned alphabets
My Note
Colorise is a very nice Windows 8 app that helps children in drawing different things. It is a very fun and handy app that allows toddlers to learn about alphabets in a very fantastic manner. Overall this app has been designed in a very impressive manner but some of the features like integrating with charms, save the made drawings are still lacking. There are no lags and crashes found in my case and hope the same for you.