Now this time you are looking for something new so we are providing you a new Technical instrument which is commonly known as Samsung Infrared Extender cable. This is a little device for your support because it communicates with your cable box or another AV device through smart touch remote. It helps you to change your channels and turns on the cable box without using your cable remote. IR Extender is Available with Samsung Smart TV's of F series 6/7/8/9 models.
You may like to read:
Advantage of using an IR Extender cable:
IR Extender cable helps you to control connected external device with TV using the Smart Touch Control
IR Extender Sensor sends an Infrared Signal to the attached external device.
By using Infrared Extender cable, you can control the features of TV as cable boxes, Blu-ray players, home theaters, and other third-party external devices.
Precaution while using an IR Extender cable:
You must locate the IR Extender with external devices near to the TV.
you have to clear every obstacle between the External device's IR receiver and an IR Extender's sensor.
Now you have to install the IR Blaster within 50 cm and 45 degrees of the up, down, left, and right directions of the IR sensor of the External Devices. Follow the step underneath to Connect IR Extender Cable with Samsung Smart TV Series.
Connect IR Extender Cable with Samsung Smart TV Series
Setup is Divided into Three Step so the first step is to getting started with universal remote:
Step-1 Getting Started with Universal Remote Setup
Firstly turn on the TV then Press Menu in your remote control to start the Universal Remote Setup as shown below.
And Now you can select system option from the Menu then press Enter key as see in the screenshot
Anyhow you have to select your Device Manager and press ENTER to get started with Universal Remote setup.
Now you have to access the Universal Remote Setup option by Pressing ENTER.
Step-2 Search For Service Provider
You have to control the device connected with TV  with your Samsung TV remote. Turn on the connected device and select the start option using your smart touch control then press ENTER as shown below:
You have an IR out port on the back of the TV, connect the IR cable in it and locate the emitter near to the device that you have to control and select OK to Continue. The Extender cable emits signals between your TV and Other devices.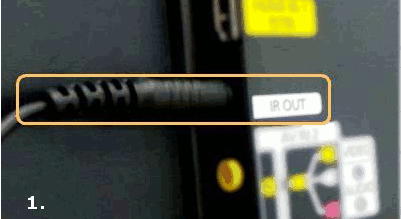 Your remote control the IPTV Setup box, satellite when your setup box is connected with satellite and select the Set Top Box to configure with TV and Press Enter.
Now you have to select the TV search provider then you can control the set top box with your remote control by pressing Enter from your remote. Now you have to insert the name of your service provider.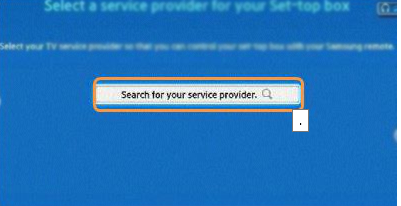 Submit your Brand name and select NEXT using your Samsung Smart Touch control then press ENTER.
Select the TV service provider from the list as available in your TV screen. If your choice is not in the list then you have to click on More TV service providers at the bottom of the list and select the name then press Enter.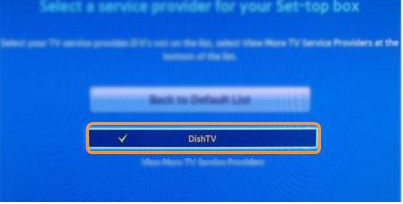 Step-3 Completing Universal Remote Setup
You have to select the TV port to connect the set top box. After the selection of TV port press Enter for the Set Top box control test.
Now you have to press the channel up and down buttons on your remote to complete setup, if the changes are occurring in your TV then this is the good sign, now you can control your set top box using Smart Touch control, select YES and Press ENTER.
Now you can face the congratulation message indicates that the setup is now completed. now you have to select the Exit and Press Enter and Start Operating your Connected Device.
Essential Note: If you disconnect the IR extender cable the Universal Remote Setup is unable to control external device then you have to Plug it in again and start using.