Everyone likes to go along their own choice and relax their mind after a hard day in busy life. Some prefer to watch latest movies or TV, some listen to music while others prefer to read comics in free time. Really it is also a hobby for some. Now comics are shifting from paper to digital world (e-book and magazine) and it is also available at several websites to read online free of cost.
A moment ago, ComiXology has been admired as one of the best comic reader app on mobile platforms (Android and iPhone). Now ComiXology app is present for Windows 8 edition in the windows store. The app facilitates windows 8 comic fans to search and read comics from collection of over 30,000 comics with renowned publishers like Marvel and DC.
The presented comics are partitioned into various groups rendering you to immediately find out most-loved comics from the enormous database.
Related Posts – Manga Z app for windows 8 – Read Comics and download
Features of ComiXology app
The main screen of ComiXology app presents many top-rated and latest published comics under Featured section. The Quick Links section renders you to work with several groups like Kids Comics, Top Rated, and more.
While you scroll to the right on app screen, it displays further groups –  Kids Comic, Digital Firsts, New & Noteworthy, Staff Picks and etc.
Next, explore any group of comic app, you will get entire related comics with titles and its subgroups too on the app screen.
In order to read any desired comic, its main page brings up whole details about the comic issue, its sample, released date, and published date.
The comics can be read in interruption-free screen with a black background.
To show app bar and switch to another group immediately press right-click anywhere on the app screen. Then it shows such groups at the top panel – Just Added, Popular, Marvel, DC and etc.
How to install ComiXology app from windows store?
Launch the Start screen, highlights the charms panel and click on Search button.
Type comics in search windows and click on Store button.
From search pages of store click on Comics tile from app lists and then click on Install button.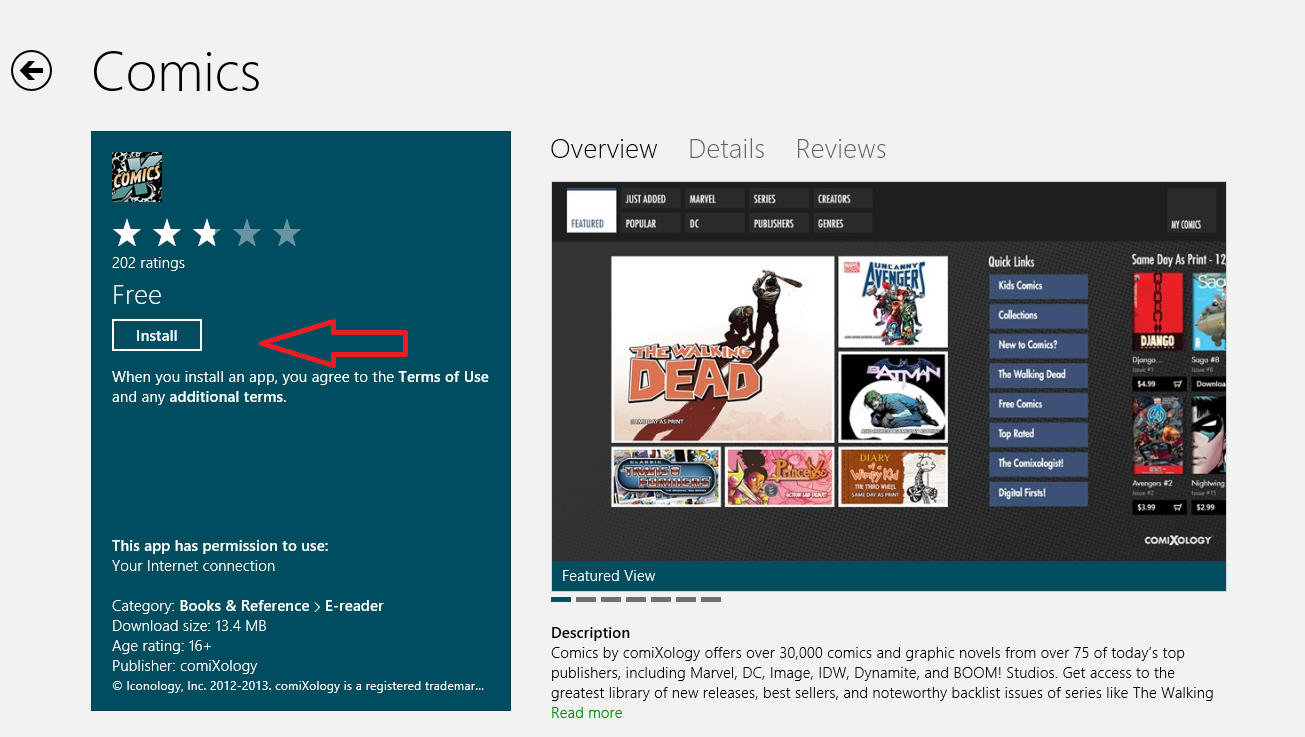 The ComiXology app works on every latest Windows 8 version (32 bit and 64 bit) and Windows RT.
Install ComiXlogy app from Windows Store