These days PDF files have become the genuine document format on the internet. A PDF document is so popular because there is no hard effort to access it on any platform like mobile or desktop or on the web. In order to read PDF files on the internet, almost every latest internet browser has presented built-in PDF reader. While we want to read PDF files offline on computer or smartphones, we are familiar to recognize PDF viewer apps like Adobe Reader, Foxit Reader, and a lot more.
Sometimes we download various PDF files or eBooks password protected. As a result, we can't print, view or edit it on the screen without knowing accurate password. There is no need to worry about it. In this context, 3 websites are available to unlock Password of PDF files online free of cost as well as remove all the restrictions.
How to Unlock Password Protected PDF or eBook online?
1. Unlock-PDF.com
Unlock-PDF.com helps us to remove restrictions like user password from uploaded or selected PDF in few seconds. After unlocking successfully, it asks to download particular PDF over the internet. Then it is easy to print or copy all contents from unlocked PDF files.

Visit  Unlock PDF
2. Free PDF Unlock Online Utility
Another website named Ensode.net has launched utility to unlock password protected PDF files with a single click. It is known as Free PDF Unlock Online Utility. But, it supports minimum 5 MB PDF files to unlock. To do it, upload PDF password protected file from the computer and click on Submit button. Then unlocked PDF files will be shown automatically into a new browser tab. At last, click Save button.
Try to  PDF Unlock Utility
3.  PDFUnlock
While we have accessed PDFUnlock tool from www.PDFUnlock.com, it provides very satisfactory result with the purpose of unlocking password protected PDF file
To do it, just upload the locked PDF and click unlock button. It uploads up to 10 MB PDF files in a single step. But, PDFUnlock tool only unlocks the password protection of uploaded PDF files.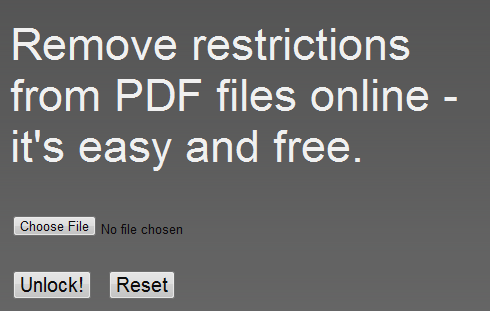 check out PDFUnlock