MKV format is the latest video format which offers HD video. If you have downloaded several video files in MKV format and want to convert them to usual video format like MP4 to watch them on your Smartphone or mobile devices. you can convert simply using the Handbrake tool. The handbrake tool is possibly one of the best and admired freeware windows apps convert MKV Video Format to MP4.
As you know the MKV format doesn't run on the Smartphone or windows media player in windows 8 by default. In this situation, Windows 8 users have to use either VLC media player as an alternative option or install external video codec for playback MKV format in windows 8 media player. In this regard, I have already written earlier.
How to convert MKV Video Format to MP4 using 
Handbrake

Tool
Start the

Handbrake

tool after downloading and installing to your computer.
Next, click on the source and choose Open File option from the panel.
Then locate the MKV file from your local drives for converting.
Now set an output video format as MP4 and its output location to save the converted video file using output settings section.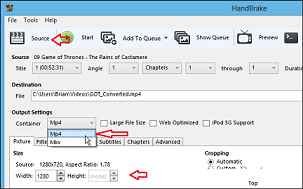 Next, you need to change the video quality and frame size of the output video file. To make it simple, just select the presets tab from the right panel.
Once the process of video conversion begins, you can view it on the lower left side of the

Handbrake

tool screen.
The total converting time depends on the size of the video, working hardware, and configured output settings of video quality.
After finishing the video convert processes successfully, go to the output folder and move it to SD cards of your Smartphone. Even you can also watch it on your computer using windows media player.