Moo0 File Shredder is a software that comes with four simple options to delete a file. It is a very secure way to delete any file and there is no chance of recovery of deleted file using this software ever. It works in many languages. You can directly change the language by clicking on the "Language" button. The interface of this software is very simple and user-friendly. A screenshot of its interface is shown below.
In this new era where you can do each and everything more or less using a laptop, it is very easy to hack your secure files and folders. You can't control this thing very much but you can do one thing and i.e. keep files at safe places and when it delete it after using. However there is one problem there and that is once you delete a file, you can only access it using file recovery software.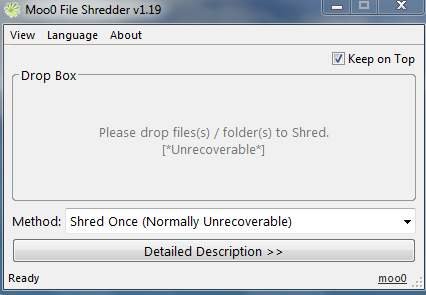 How to work with this software
As you can see in the above screenshot, it has a DropBox. Here, in the DropBox you can drop any files or folders you want to remove securely. Now as you put down a folder like shown below, there are four options on how secured your file is and hence according to its importance use the necessary one choice.
The four options written above are described in short just below:
Vaporize: It uses Gutmann process to disappear the file immediately.
Into Ashes: It is an extremely secure way of deletion as it changes the file size, attributes up to at least 15 times.
Extra carefully: It is even more secure way of deletion than the above two mentioned above as it uses US DoD process & overwrites all data 7 times.
Shred Once: It is just like a normal way of deletion of files.
Once you are done with the selection of method and add a file to its drop-box, a new window pop-up it immediately asking the user permission to delete the file in the way of selection of methods. If you don't want to click on the "No" otherwise on "Yes".
Some other features of this software
The home screen of this software can be moved anywhere by just clicking on the View button on its home screen. If you wish to know more about any four methods click on Detailed description and you will be able to know almost everything about that method. A screenshot of the first method is shown below:
How to get this software
This is a free non-commercial software easily available on the internet. You can visit download to get this software. Its size is less than that of 3 MB. Once you have downloaded this software, install it by following the steps. Once you have done with the installation a start-menu and desktop icon will appear in your computer. Also, if you have selected the opening of this during installation, a window will pop-up like the very first screenshot.