Crackle is an app that comes under the entertainment category of windows 8 used to watch online Hollywood movies as well as TV shows. If you are a hard core fan of Hollywood stuff including famous movies and TV series this app has been made for you to explore and see all the stuff for free. You can watch full-length Hollywood movies and TV series on demand. It is a free app and can be a real leisure time provider on your Windows device. This app is available only for the users in US, Australia, Latin America, Canada, and UK.
The interface of this app is very neat and clean. It is very user-friendly, and you just have to search for what you are looking for.  The video playing options are similar to the other standard software.  A screenshot of the home screen is shown below.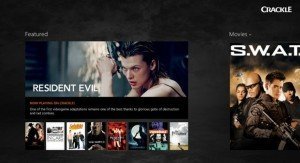 How To Use Crackle app
First thing first you have to get it installed on your Windows device after downloading it from the Windows store. Then you have to launch the icon to move to the main screen of the application.
In the above screen, you can see the featured movies section where all the latest and popular movies are displayed that you can watch on this app. There is a separate section of movies to search for more that are present in the database. When you click on the movie a new interface shows up in which the detail of the movies is given like Cast, director with a short description along with the genre which is the most important classification parameter. There are options where you can filter your search by most popular, most viewed, and most recent movies.
Apart from movies, there are two other broader sections which include TV series and anime. All the TV shows that are popular are recommended in this section, and you can browse through the list to get the one that you wish to see. You find a large database of anime too. There are hundreds of episodes of anime straight from Japan. So if you are an anime fan this is a relish for you.
Now when you are watching a particular movie or TV show there are several tabs with different functionality in the interface. On the screen of the playing video or while watching TV, you have normal controls to play, pause, and forward. You have a full view option at the right bottom corner. You can also capture the images while the movie is being played to save a snapshot on your device. Also, you can add anything that you are seeing on your Watch list to continue with it later.
Key Features of Crackle App:
Full-length Hollywood movies as well as TV series.
Absolutely free to watch with no charge of installation too.
On demand viewing with unlimited access to the collection.
New movies and TV series added monthly.
Genres are displayed: action, thriller, and comedy, etc.
Conclusion
It is a nice app having a huge collection of the world's famous and most watched movies and TV series. Such access on your device for free is definitely worth trying.
Downloading Link:  http://apps.microsoft.com/windows/en-us/app/crackle/FBDE26ED-FDB8-405B-ABF8-E809B99EBCBB