Puzzles For Kids is a nice puzzle gaming software developed aiming at increasing the abstract thinking among the kids. It allows them to create as well as solve different jigsaw puzzles using the pictures or images already present in one's PC. This gaming app comes with different level of difficulties thus also suitable for grown-ups. Puzzles for Kids also allows you to download some famous cartoon characters images, like Nemo fish, Kung fu Panda, etc., to create jigsaw puzzles. This gaming software is basically an entertainment program that helps children as well as elders in boosting up their Memory.
The interface of this software is very neat and clean. A screenshot consisting of puzzles for kids is shown below: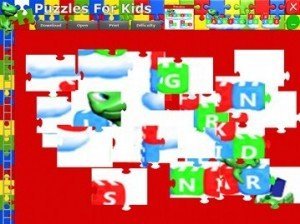 A link has been provided at the last of this article from where you can visit to its official website. The above screenshot shows the user interface of Puzzles For Kids where you can see jigsaw puzzle pieces and a preview of the original image.
How to Use and Play with Puzzles for Kids
Visit to the site address and you will find Learning for kids written on a dice and that is floating on a sky. Below to it you will find 5 different balloons. At the last of this page, you will find a Downloading link of this software. Once you have installed this app on your system, run it directly by double clicking on its .exe file. You can use the open button on this page to add images from your PC or laptop to this website so that you could create some interesting Puzzle. A screenshot of its balloons are shown below:
The above shown balloons show different options. Some of them are described below:

News: Here, this app releases its recent updates as well as social congratulations on different holidays like: Christmas Eve
Learning: This section tells you about different topics in mathematics
Fun: As the name suggests, it is almost the same. All you have to do is to start a game and play it here
Quiz: This is a very special section as it tests your learning on different topics
Software: This is again a special section consisting of software for different kids like Calculator.
Note that, once you have selected an image, that image's pieces will be available on its interface scattered randomly. All you need to do is to join these pieces by dragging and dropping at the required area. By default, the difficulty level remains easy (only 25 pieces). However, the difficulty level depends on your intelligence. The difficulty level can be increased by the difficulty (medium (100 pieces) and hard (400 pieces)). As there is no time limit to solve the puzzle, so you can take as much time as you want. However, if time limit is set here on this app, it would be much more interesting gaming app. Help from the preview of original image could also be taken to solve the current puzzle at a fast rate.
The thumbnail which has been seen by you  can be previewed as enlarged to view original image more clearly. All you have to do is to just place the mouse cursor on preview thumbnail so that it gets bigger itself automatically.
Key Features of Puzzles for Kids
A completely Free App with latest update on 29th Dec. 2013.
Version 1 is still in the trend with 127 MB.
 Try to complete the puzzle as fast as you can.
Available for almost all types of Windows as well as Windows server.
Required a processor of 400 MHz or higher. This one is a must.
Runs on PCs having RAM of 256 or either higher.
The resolution of this App is 1024*768 or higher.
A lovely App for kids that helps to sharpen their memory.
Take a print-out after solving the puzzle.
It supports different types of images like: bmp, gif, jpg, and png for creating Jigsaw puzzle.
My Note Puzzles For Kids is a nice Internet Gaming software which is used to create puzzles using the images already present on your PC. This gaming app also combines alphabets and number images intermingled with each other thus forming a good jigsaw puzzle for small kids. Overall this is a must-try app, especially for small kids.