Windows 7 is one of the most popular operating system since now. It was developed by Microsoft Corporation as the next version after Windows XP. Nowadays it becomes more popular operating system (OS) than earlier versions. Password is the most basic function to keep your system secure. Password prohibits another person from using your PC. Then we must have knowledge how to create, change, recover password in our Windows 7 PC. Here, I am writing some tips by which you can Create, Change and Recover Password in Windows 7.
Tips for How to create change and recover the password in windows 7:
 Creating password in Windows 7:
1. First, you go start button and click on control panel.
2. Then after click on user account and family safety.
3. Three options appear in front of you. Click change your Windows password.
4. In the middle area you will create your password for your account.
5. Enter your password and click on ok button.
Now your password has been changed very easily.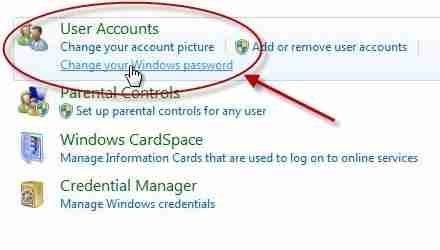 Changing Windows 7 password:
You should change your password regularly. This is easier for your Windows 7 which provides you the facility to change your password very easily.
There are two methods to change your password:
Press "ctrl+Alt+delete" and then click change password. It will ask you to enter your older password. After filling up your older as well as new password press enter button, your password will be changed, and a new password will be applied.
Recovering windows 7 password:
Human mind is forgetful. Sometimes you may also forget your password. It is a very inconvenient situation when you have computer, you have power, but due to lack of password you can't operate your computer. Don't mind you can recover your password by using reset disk, it is a disk which recovers password which you have lost. If you have not a reset disk it may be some complicated, but you have another chance. You may use recovery tool to reset your password. To use this you may use password by administrator account and other system.