Microsoft has introduced some new personalize features in Windows 8. For example, you can set your preferred picture, built-in background or color theme on the Start screen. In Windows 8, it is simple to change the color theme and background. You can also personalize lock screen and start screen with customized background themes and colors. Themes are groups of settings to change your computer's appearance. Window 8 offers three types of themes by default.
1. My Themes – Create your personal theme and sync with Microsoft account.
2. Windows Default Themes– A collections of built-in all default themes.
3. Basic and High Contrast Themes – These are high-contrast themes only for visually impaired users.
Tips for How to change Windows 8 Themes and desktop backgrounds in Windows 8
First Tips
Perform a Right-click on your desktop screen and go along with Personalize from the lowermost portion of the right menu panel.
In personalization window, Windows 8 shows all lists of default themes.
Once you select any theme from the screen, it will set on your windows 8 computer desktop immediately.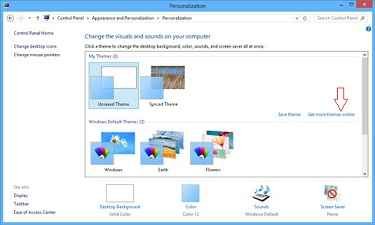 Note If you want to set extra themes free of cost then click on Get more themes online link and download from Microsoft website.
Second Tips
Open the Search charm by pressing the shortcut (Windows Key+F).
Then enter personalization in the search box at the right corner and click on Settings.
Next, click on Personalization from search results on the left side.
You will get personalization windows.
Now change your option like desktop backgrounds or themes.