Music Maker Jam is an interesting app for Windows 8 that can help you make your own songs, music modifying their style, and many more manipulations that a trained musician can do. For all the budding artists who aspire to be going down the music like this is a handy app to experiment, improvise, and produce their own mix. It is a free app but some of the advanced features may come with extra charges. If you ever had an experience while you were listening to a song and you wished that you could change some instruments of the song to make it with your own accord now you can do that with this great app. You can do so much with this app and so efficiently that it gives you a feeling of being a real musician or a DJ if you like to flaunt your creative mix in front of your friends.
The interface is simple and user friendly. It is compatible with Windows 8 on smartphones so that you can use touch screen for an amazing experience. It has a convenient control and gives optimal performance. A screenshot of this app is shown below: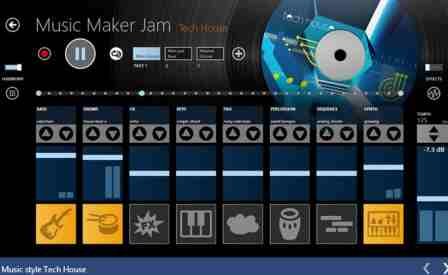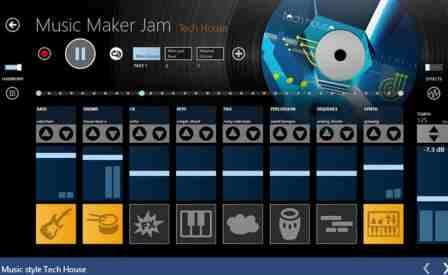 How to create your own song in this App
There are professionally produced loops from Dubstep, Tech House, Jazz, and Rock that are available to make your own song. You can simply restructure your song by changing the melody and tuning the tempo. You can increase or decrease volume and can add or remove the instruments from your song. Just select the parts of the song with different instruments to give it your blend and play the professional sound. You can choose your own style and give amazing effects with 8-track mixer where you can blend different songs creating perfect sound. The features are synchronized in such a way that it gives spectacular modification to your song and once you are done with the editing the files are automatically saved as MP3.
Musical Multiplicity
When you have created your track you can add different loops from other musical styles. Again, you just use the step sequencer for melodic progressions. This app is integrated with diverse music styles and you can add some of them by swapping because some others come at a price.
There is also a feature of Recording in this App using which you can record your own songs and then add some instruments, styles, special features in between to make it more attractive and lovable. There are some filter effects too here in this app to make your recording awesome.
Key Features of this App
Professionally produced loops are available and they are an integral part in music composition.
Effects for tracks are available through filtering in real time.
8 track mixer enables you to mix tracks of your own choice and play with them.
Melodic step changer regression and Tempo selection are prominent features.
You can tip your touchscreen device to change the effect settings.
Overview of your tracks is maintained for all your song parts.
Clear structures are a great help for individual tracks.
Loops from different styles can be used to manoeuvre your track.
Sharing of your work can be done once they are saved as MP3.
Background image can be customized as per your choice.
Buy advanced features to personalize your project.
Conclusion
Music Maker Jam is a fun based app used to create your own hits songs. This app contains intuitive and amazing touch screen controls which allows you to have the full studio experience in your palm. One of the best thing which i like the most is that sound perfectly synchronized. It thrills you when you are in a party enjoying with your friends. It is a must try app if you are passionate about the music. You can have the access to this app from the below provided link:
Downloading link: Music Maker Jam