Windows 10 facilitates you typing work and makes it simpler in terms of errors. It provides you the options that can fetch out the spelling errors from your write-up and also corrects it by itself. Hence, this post will show you how to customize typing settings in Windows 10.
There are certain features that are embedded in Windows 10 and Typing is one among them. It provides you two options: Autocorrect misspelled words and Highlight misspelled words. Both the options have a slider you can enable or disable as per your preference. But before going to the steps, let us clarify what these two features hold for us.
Autocorrect misspelled words: After you enable this feature, the wrong words will automatically be corrected if the spelling gets matched with the one in the dictionary. Let us explain this with an example: type "Google" followed by a hit on spacebar key. You will see the spelling will be corrected automatically to "Google".
Highlight misspelled words: This feature underline the words that are spelled incorrectly. Of course, it will   only work when you enable its slider.
Now, let us walk through the steps and see how to customize typing settings in Windows 10.
Related:
Windows 10 – How to Turn off AutoPlay
How to Customize Typing Settings in Windows 10
Enter into the Settings app via the transparent Start Menu.
Choose Devices symbol in the Settings app.
The left bar exhibits many settings, choose Typing.
Now, cast a look at the right area of Typing which displays two main settings.
Toggle both the features to On mode and see how well your incorrect spellings and corrected and underlined.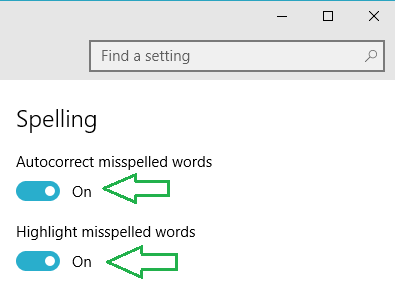 If you are not satisfied with the auto-correct feature and enabling it seems no help, you can turn it Off.
Well, the words are only get corrected if it gets matched with the dictionary. But you will always be highlighted when you type any wrong spelling. Hope you will Customize Typing Settings in Windows 10 and avoid spelling errors.