Cut The Rope is an innovative game in which you have to satisfy the little monster having only a sole request to feed him candy and collecting gold star, hidden prizes and many more during the process. It is mainly interesting because of the common physics that you have to apply to score. The game has so many packages and levels so that you never get bored while playing and you get to explore a new puzzle every time making it a phenomenal entrant into the game world. It is a paid app and is totally worth it since it is an interactive game which can be played by everyone and it's a great way to pass your time.
This game is compatible with all the devices and is available for iPhone, Android, Symbian, Blackberry, Nook, Mac and Windows. The user interface is amazing and simple plus the background music makes it more thrilling. The graphics are fantastic and an absolute delight.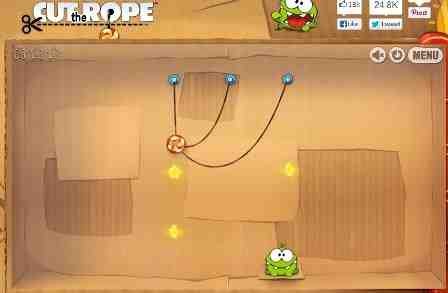 How to play this game on your android device
Once you have installed the game you just have to open it and the game itself guides you as to what is to be done. In each level there is a candy hanging through some threads in a puzzling manner and there are few golden stars which are to be collected to gain bonus points. The dangling threads are to be cut via a swipe and correct timing to release the constraint on the candy. The little monster Om Nom is also present sitting impatiently waiting for the candy. Also during the first few levels a hint is provided to initiate and build the pace of the game. The trick for the game is that if you get your physics right for the particular challenge then it becomes simple. The game rates you on the level of good, great and excellent on the basis of your performance in that level. The level gets tougher and challenging every time requiring more logical thinking.
Cut The Rope Key Features:
A completely free game and very easy to use.
The game has 15 boxes and each box has 25 levels in it with varying diversity.
New levels and animations are constantly updated and no extra charge is taken for that.
The characters in the game are funny and always active. You can also see some drawings of Om Nom displayed secretly throughout the game.
There are superpowers in the game which can be unlocked and used if played brilliantly.
There are different gadgets available like teleporters and air bubbles to take the candy to the waiting Om Nom.
Since the game is intricately puzzled a precision of timing and control makes it joyful when you feed the little monster.
The game is credited with App store bestseller and has bagged many awards including Apple Design Award, BAFTA Award and Best App Ever Award.
This game is undoubtedly the best because of its absolute great game value, an innovative interweaving of physics with challenge and an ebullient personality.
Conclusion
Cut the Rope is an addictive game. You will get a lot of fun playing this game. The new stuffs introduced in this game is lovable. It is a game which could be played by people from almost all the ages. There are some problems like crashing related problems when you update this game. So, i suggest you to update your game only when this seems to be a very old one. Again, you must not download the latest update as it may have some problems relating to its starting. Overall this is a good game and you should try this.
Downloading link: Cut the Rope