Field & Stream Fishing is a uniquely designed game which can be a real time killer. If you have ever played Sega Fishing Game in the arcade and have a thirst for such a game in Windows 8 your search stops here. This is the best fishing game in Windows 8. It has high resolution graphics and wonderful fishes with superb locations where you can get them hooked. It is a fun game that becomes more exciting as you play along to get the purchase lure and other locked contents.
The interface is simple and can be easily understood while playing along. Although on Surface RT it has been a little slow but works well on any other Windows device. The supported processors are x86, x64, and ARM. You may find difficulty with this game while running on an atom processor. The game is also available for android, iOs and mainly for Xbox gaming.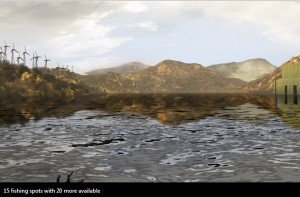 How to play this game
There are 15 different fishing locations with beautiful underwater space. You simply have to swipe and lure the fished to get them into your hook. To make the fishing more realistic sound of native location has been integrated with each shoreline to give you a fascinating fishing experience. There are goals for each fishing location which are set entirely in the middle of the location to make it livelier. You have to play along to get other levels unlocked using different lures with an additional bonus.
The sole purpose of this game is to bring the big fishes home with the help of Field and stream fishing. To make this thing possible first you have to land your cast in the big fish spot. Now, as your cast is inside the water, trigger a strike and reel them in inside the water. It is done to attract the fishes towards the cast. Note that here you have to stay in green otherwise it would be lost. Again, as they come near by your cast fight starts. Here, you have to work effectively to bring the fishes to the home. Lure could be changed for better results.
Pros:
High Resolution Graphics.
Play with swiping easily.
Totally new and different fishing locations and lakes.
Peacock Bass, Tarpon, Kokanee and other fabulous fishes have been added.
Natural Sound and Bird songs are providing the real feeling.
Compete with your friend using Beat Your Friend High score.
20 thrilling achievements to be unlocked.
Cons:
It is a paid app.
Surface RT does not support it well.
The main menu is filled with buy links.
Loading of the game is a little slow.
Tutorial session on control settings is not available.
Some of the contents are locked and have to be purchased.
Conclusion:
It is a great game overall thanks to the developer and can be a quick time pass. The game lacks so many features that are present in its Xbox version. The new look makes it more interesting but the slow loading makes it creepy. The addition of a new location certainly makes it better while the other unlocked content that you are prompted blurs the fun while you are playing at it. The game has many shortcomings but once overlooked it's a leisure time pass.