Best Google Tools to Ease Your Tour – Today the travel trend has changed completely. People moves here and there for their adventure and enjoyment. In this situation, they need an assistant that helps them to find out the new place where they have not gone before and they need a guide in all the segment of travelling. As we know the only one thing which can help you in every problem is Google. This is the best friend, teacher, and guide which gives everything to you. If you are planning to go for outing then you should have Google tools and services that make the tour and travel easy.
Best Google Tools to Ease Your Tour and Travel
Google flight
Google has started the service of finding the flight to your destination and you can also book your tickets with the help of Google flight. In the Google flight, there are many Google Tools to Ease Your Tour by customizing your search and you can get the detail information about flight, city and fair. It has the facility to graphically analyze the lowest fare and map reasonable alternative airport option on the map.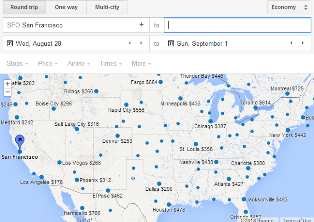 Google Maps
The Google maps produce the map of your selected place. During your tour if you are confused to go to in right direction then the Google map will help you instantly. You can easily go to your right direction, place, and city. In the Google map, it has the ability that it tells about the nearby place as ATMs, restaurants, hotels and other important places. In this way, it is a very important and useful tool of Google that helps you more in travelling. It recommends you the best and short route also.
Google Reviews
Any suggestion or advice is very important during travelling when you are in strange place. Google reviews give you right and important information about most things as hotels, resorts, good places, special restaurant and other unique things. So you should learn from Google reviews before or during the travel and tour. You get the correct experience of former tourist and people and know about the good and bad thing.
Google Translate
Suppose you are in other country and you are facing problem in language. In this situation, Google Translate helps you. It translates your language, word into your needed language. Even you can hear how to pronounce the word in that foreign language. So it breaks the hurdle of language in foreign.
YouTube
You think YouTube is a package of video then how it will help in travel period? It helps you to get closer and watch your destination before going there. You can make ready yourself by watching different videos related to your destination and tour place.
Google Hangout
Google Hangouts offer you a connection interaction with your family and friends. If you are on travel and you miss your family and friends then Google Hangouts gives an exciting way to connect with your friend and family and you can share your experience.
Field Trip
This tool is especially for travelling. If you are wandering in any city while travelling and going tourist places, but in a lack of knowledge you miss a worth seeing place where you should go and for this you will sure regret in future. This Field trip has a unique tool which sends a notification about your nearest place to visit. Field Trip app is available for iOS and Android Smartphone.
Google Now
Google Now is an ultimate Google Tools to Ease Your Tour. It helps to organize your daily life in the same place. It has most of the applications of Google as Translate, Search, Gmail, YouTube, Calendar, Drive, Google+, Weather, News and more.  Google Now has the real time for traffic, calendar appointment, and nearby. For a traveler at the airport, it manages the responsibility of boarding pass from your email, with gate number, departure time, and route. You are to enjoy the moment.
Google+
Google+ is a social networking medium to stay connected with your friend and colleagues. You can get the comments of people related to the particular area where you are about to go. It will help you to understand the environment of the destination from the other traveler and local people.
Google Wallet
If you are out of cash in a foreign country, this will be a ridiculous time for you. Because without money, you can't survive away from home. Google wallet helps you in this condition. You can get cash by transferring from your Gmail account to Google Wallet account from bank account. Watch this video, how Google Wallet helps a traveler in hardship.
Google Calendar
It allows to schedule and plan for your tour. It has the facility of reminder setting for going airport and etc. Create a checklist with the Google task which is in Google calendar.
Google Drive
Google Drive also helps the traveler during travel. You can store a large number of files as video, audio and travel document and other files in Google Drive for using it from anywhere in the world. You can save all your work online and use it anywhere in future.
Android Mobile Devices and Chromebooks
Through its product Google always makes the internet, web more effective and portable. It became a need to port the devices with you to utilize Google Tools to Ease Your Tour around the world. The Android Smartphone, tablets, and Chromebooks are the way to connect the world for travelers.
Google Glass: Google Glass will change the way of looking the world. It will do the work which can be only imagined. When you are on tour with Google Glass you see a beautiful view of nature and want to take a photo. What will you do you have to say only OK, glass will take a photo and the view will be instantly captured. There is no need of any physical movement. Google Glass has various facilities as camera, video recording, GPS, and other which guide you to the right way and destination. It will change the way of travelling and help the traveler a lot.